Cacao Vitality
Regular price

Sale price

$31.00
Experience the Delight of Organic Drinking Cacao: The Perfect, Healthy, Tasty, and Nutritional Supplement for Seniors, with an Extra Dose of Cacao!
Cacao, a true marvel of nature, is a superfood brimming with an array of health benefits tailored for seniors.
This remarkable elixir bestows numerous advantages upon our minds and bodies. Enriched with essential nutrients, minerals, and vitamins, cacao stimulates healthy brain function, enhancing memory while simultaneously reducing stress and fostering a sense of relaxation and happiness.
Abundant in antioxidants and minerals, cacao fortifies the immune system, safeguarding the body against diseases. It also aids in regulating blood pressure and heart rate, promoting cardiovascular health.
Ingredients

Sugar, Gluten & Preservative Free!
Cacao Culture produces premium organic, refined sugar-free, preservative-free, vegan drinking cacao. Founded on the Gold Coast, we blend raw Criollo Cacao, grown by a small community of families in Peru, with 100% organic ingredients to create a delicious and nutritious Cacao drink perfect for your kids.

Made With Love Using 100% Organic Ingredients:

Cacao Powder 62%, Evaporated Coconut Nectar, Coconut, Raw Cacao Beans, Cashew, Hazelnut & Almond.Contains tree nuts. Not suitable for people with tree nut allergies.


Benefits

• Fortifies the immune system
• Aids in regulating blood pressure and heart rate
• Soothes the nervous system
• Assists in muscle recovery
• Boosts energy levels, and combats fatigue
• Promotes the development and maintenance of strong and healthy bones
• Aids in food metabolism and liver detoxification
• Generates feelings of happiness and well-being

HOW THIS FORMULA WORKS?

Boasting a higher magnesium content than any other natural food, cacao stimulates cognitive functioning, soothes the nervous system, and assists in muscle recovery – a true boon for seniors.

Recognized as one of nature's richest sources of antioxidants, cacao contributes to overall well-being while minimizing visible signs of aging, ensuring a radiant appearance.

Furthermore, cacao stands as the highest plant-based source of iron, a crucial mineral facilitating the transportation of oxygen throughout the body. This elevation in oxygen supply improves both mental and physical performance, boosts energy levels, and combats fatigue.

Cacao's impressive calcium content is particularly beneficial for mature bodies, promoting the development and maintenance of strong and healthy bones.

Functioning as a vasodilator, cacao widens blood vessels, facilitating smoother blood flow throughout the body. This reduces the strain on the heart, ultimately lowering blood pressure and enhancing the efficient transportation of oxygen and vital nutrients.

Rich in sulfur, cacao supports cellular repair and protection against damage and illness. It aids in food metabolism, liver detoxification, and fosters the production of collagen and keratin, vital for healthy skin, hair, nails, tendons, and ligaments.

By activating the four major feel-good neurotransmitters – serotonin, dopamine, oxytocin, and endorphins — cacao generates feelings of happiness, well-being, and acts as a natural painkiller, offering a holistic approach to senior health and vitality.
Dosage and Warnings

HOT: Add 1-2 tablespoons to your favourite choice of warm milk.

ICED: Blend 1-2 tablespoons with ice and your favourite choice of milk.
Product FAQ's

Q: What is Cacao?

Cacao, originating from the lush tropical rainforests of the South American Amazon, is the product of the Cacao tree, scientifically known as Theobroma Cacao. This small evergreen tree bears seeds or pods that serve as the raw ingredient for chocolate production.

Q: Is Cacao a superfood?

Cacao is indeed considered a superfood due to its wealth of beneficial nutrients. It contains notable amounts of magnesium, iron, calcium, zinc, and serves as a rich source of antioxidants. Additionally, it boasts high levels of Theobromine, which has demonstrated the ability to naturally lower blood pressure and potentially reduce the risk of cardiovascular disease. Furthermore, Cacao improves blood flow by dilating blood vessels and facilitating more efficient oxygen circulation, thus reducing the likelihood of blood clots.

Q: Why choose Cacao?

The Mayans held Cacao in high esteem, referring to it as the "food of the Gods." Native cultures valued it for its healing properties and incorporated it into ceremonies. It was even used as a form of currency in tribal trade.

Q: Why is Cacao an excellent coffee alternative? What sets it apart from coffee?

Cacao proves to be an exceptional substitute for coffee as it provides energy and acts as a mild stimulant without the negative effects commonly associated with caffeine on the nervous system. Unlike coffee, Cacao induces a gentle, sustained, and relaxing effect as it does not trigger the release of cortisol, a stress hormone that can cause feelings of anxiety and nervousness. Instead, Cacao promotes a relaxed state with a positive sense of alertness.

Q: What distinguishes Cacao from Cocoa?

In its purest form, raw Cacao (pronounced "ka-cow") contains an array of beneficial nutrients, including essential vitamins and minerals. Conversely, Cocoa (pronounced "ko-ko") is a processed byproduct of Cacao, often achieved through roasting or cooking methods. Cocoa is commonly found in supermarkets and frequently used as an ingredient in confectionery products. However, the processing techniques alter its molecular structure and diminish its nutritional properties compared to Cacao.

Q: How is organic cacao different from conventional cacao?

Organic cacao is cultivated using organic farming practices, which means it is grown without the use of synthetic pesticides, herbicides, or genetically modified organisms (GMOs). It is also produced without the addition of artificial chemicals or preservatives. This ensures that organic cacao maintains its purity and is free from potentially harmful substances, making it a healthier and more environmentally friendly choice compared to conventional cacao.

Q: Is organic cacao suitable for individuals with dietary restrictions or special diets?

Yes, organic cacao is highly versatile and can be enjoyed by individuals with various dietary restrictions or special diets. It is naturally gluten-free, making it suitable for those with gluten intolerance or celiac disease. Organic cacao is also free from dairy and animal products, making it a great option for vegans or individuals following a plant-based diet. However, it's always important to check the specific product labels to ensure it meets your dietary requirements.

Q: How can I incorporate organic cacao into my daily routine?

There are numerous ways to incorporate organic cacao into your daily routine. You can use organic cacao powder to make delicious and nutritious smoothies, hot chocolate, or homemade energy bars. Sprinkle cacao nibs on top of your morning oatmeal or yogurt for added crunch and flavor. You can also experiment with adding cacao to baked goods, such as cookies or brownies, to create healthier and more indulgent treats. The possibilities are endless, allowing you to enjoy the benefits of organic cacao in a variety of creative and satisfying ways.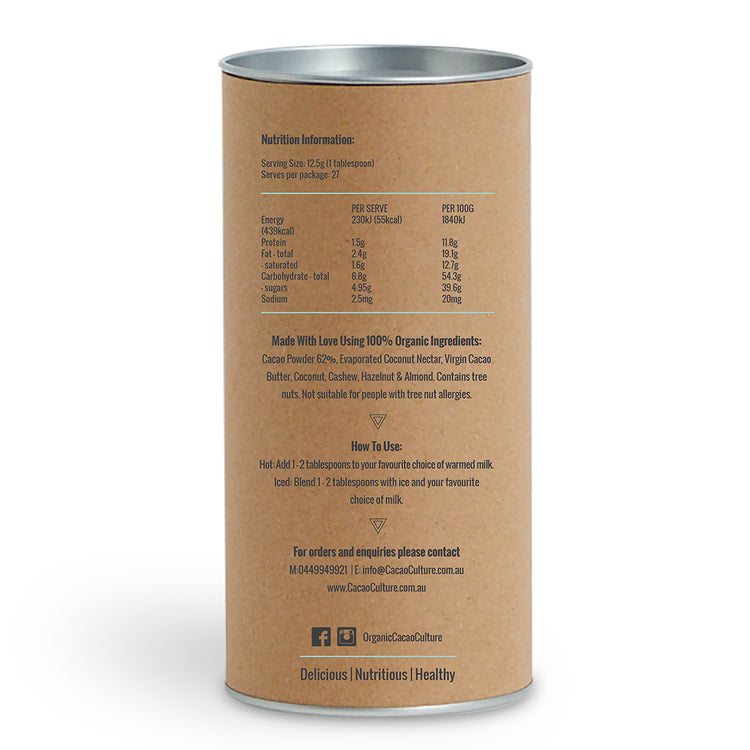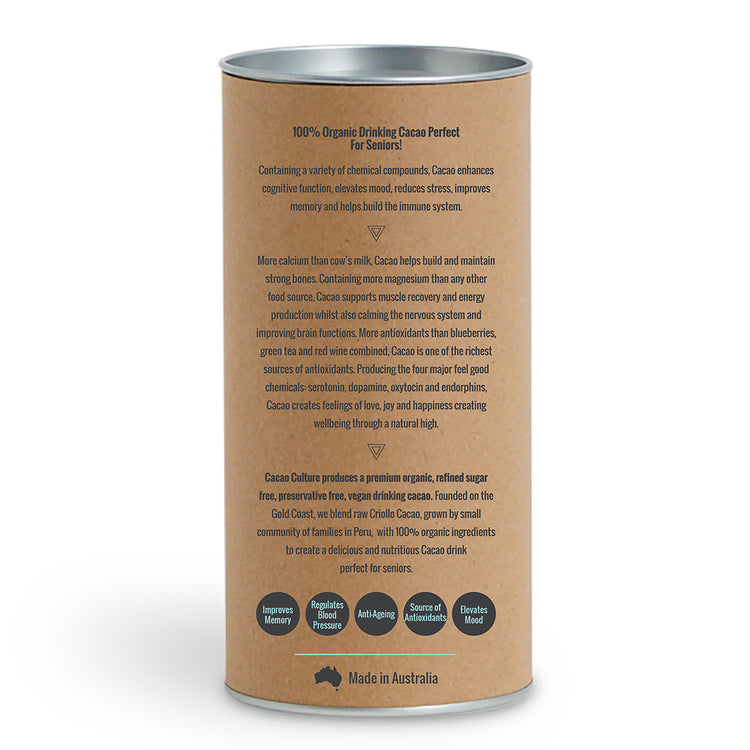 Customer Reviews
Individual results may vary.
Quality Guaranteed
Naturopath Certified
Australian Owned & Operated
Ethically Sourced
Fast & Secure Checkout
Store Info
1. Shipping and Delivery

AUSTRALIAN SHIPPING - via Australia Post:

• Standard Shipping (2-4 business days) - $9.95

• Express Shipping (1-3 business days) - $15.00

FREE EXPRESS SHIPPING on orders above $150

You will be provided with a tracking number when your order has been processed and
is ready for dispatch. You can check the status of your package via the Australia Post website.

Check our SHIPPING POLICY for more info.
2. Money-Back Policy

Please note that you can be eligible for a refund of our Turmeric capsules only if your purchased them from our online store. If you purchased one of our products from another store, you must return the product to the store in which you made your purchase and abide by their returns policy.

To be eligible for a refund under the money back guarantee you must have taken the product as per the suggested daily intake for a period of no less than 30 days. If you are asking or refund of the item(s) because you have changed your mind or any reason other than believing you the product has made no difference to you all, then any postage charge is payable by you. Items to be returned by post are your responsibility until they reach Turmeric Australia, so please make sure that they are securely packaged. See our Returns policy for more information.

Product Assessment:
Once we have established proof of purchase and the products has been taken in accordance with suggested daily dose, we will be able issue a refund.
3. Contact

Did you have:

A question, enquiry, request, or query? A comment, observation, remark, or some feedback?

Well don't be shy, we love hearing from our customers and value your opinions.

Send us an email to info@turmericaustralia.com.au or Call us on 1300 001 558.

We apologise for not having someone to always pick up the phone when you call. We are an online business and unfortunately, that means we don't have a dedicated call centre. If you do not have internet access to place your order or need to speak to someone, please call us on 1300 001 558. We will return all your calls with 24-48 hours.

Our office hours Monday to Thursday from 10:00am to 3:00pm
Friday 10:00am – 1:00pm Queensland Time
Saturday and Sunday – CLOSED