Vitamins D3+K2 - Bone & Heart Health
Regular price

Sale price

$34.99
Vitamin D, also known as the "Sunshine Vitamin," takes centre stage in maintaining so many aspects of bodily health. It is the shining star in immune function from fortifying bones to uplifting mood, from guarding against heart and blood ailments to bolstering disease resistance, Vitamin D's significance is undeniable.

When reading the benefits, it is easy to see why the combination of D3 and K2 is the fastest-growing pairing formulation in the world because both are essential core nutrients required by our bodies throughout our life.

Vitamin D3 and K2 are a dynamic duo in supporting immune and nervous system health as well as enhancing bone density and prevention of osteoporosis.
Ingredients

• Vitamin K2 (180mcg per 1ml)
• Vitamin D3 (1000IU per 1ml)
• MCT Oil (960.5mg per 1ml)
Benefits

• Supports Heart Health and cardiovascular ailments
• Supports immune and nervous system
• Supports mental health
• Activates calcium absorption
• Supports weak teeth
• Aids joint discomfort
• Supports skin health
• Helps regulate blood pressure
• Enhances bone strength, especially for postmenopausal women
• Harmonises hormones like estrogen and progesterone
• Soothes joint inflammation and pain
• Amplifies natural immunity by taming inflammatory cytokines.

HOW THIS FORMULA WORKS?

Vitamin D's Multifaceted Contributions

Vitamin D, beyond its role in bone health, plays multiple roles in the body. It supports the immune and nervous systems, intricately weaving its effects of versatility.

The Dynamic Duo: Vitamin D3 and K2

Calcium, pivotal for bone strength, finds its ally in Vitamin K2. Activating osteocalcin, Vitamin K2 empowers calcium to fulfill its bone-binding mission, enhancing density, curbing fractures and prevention of osteoporosis.

Unifying Forces for Well-Being

The amalgamation of Vitamin D3 and K2 orchestrates a symphony of health benefits. From optimising calcium absorption to countering arterial stiffness, weak teeth, and joint discomfort, their synergy is profound.

A Shielded Path to Vitality

Balanced Lifestyle with Supplementation

Regular supplementation can be a shield against skin cancer risk and ensures essential requirements are met. Vitamin D3 not only supports bone health but also wields control over hormone stability.

The Power Couple: K2 + D3

Vitamin D's calcium-absorption prowess meets Vitamin K's guidance, directing calcium to its rightful places within the body, and nurturing wellbeing together.
Dosage and Warnings

How do I take this product?
Take 25 drops (1ml) under the tongue or in a small glass of water or juice daily.

What are the ingredients in this formula?
Active ingredients in Vitamin D3+K2:

• VitaminK2 – 180mcg – (180mcg is equal to 0.180mg)
• Vitamin D3 – 1000IU – (1000IU is equal to 0.025mg (25mcg))
• MCT Oil – 960.50mg

Does not contain:
Gluten, Wheat, Dairy, Lactose, Soy, Artificial colours, Artificial flavours, Artificial sweeteners, Bee products, Corn, Egg, MSG or any kind of nut. No fillers, additives or preservatives. Capsules are vegetable cellulose origin and are suitable for vegetarians and vegans.

Warning:
Do not exceed the recommended intake.
Product FAQ's

Q: How do I take Vitamins K2 & D3?
Take 25 drops (1ml) under the tongue or in a small glass of water or juice daily.

Q: What age can I take Vitamins K2 & D3?
If you are over the age of 12 years old you can take this product.

Q: Do I need to refrigerate this product?
Refrigeration is not required. We recommend to keep it in a cool dry place

Q: Can I taste any of the ingredients?
The MCT liquid in D3/K2 is sourced from coconuts and has virtually no taste.

Q: Are Vitamins K2 & D3 vegan?
Yes, they are.

Q: Where are your products made?
All Nature's Help products are proudly made in certified facilities right here in Australia.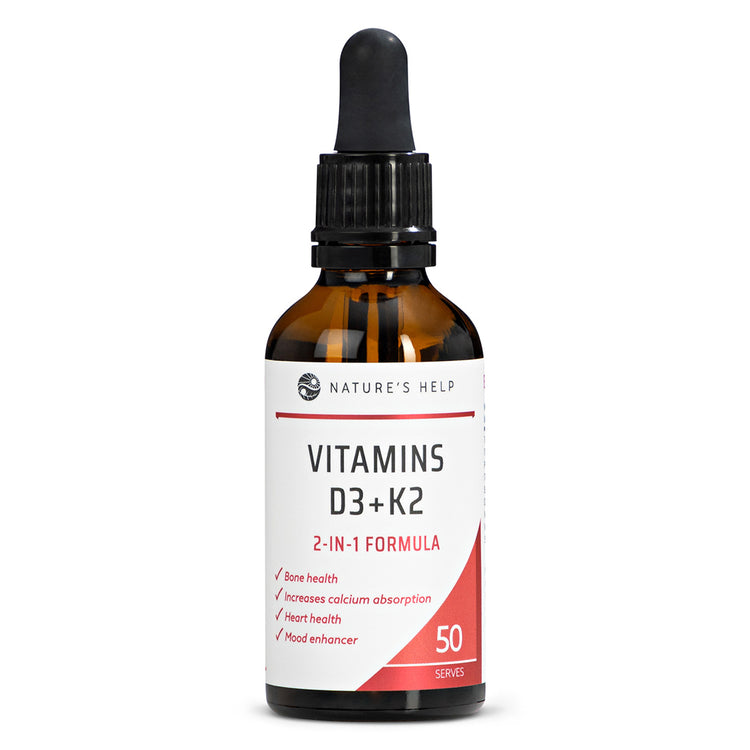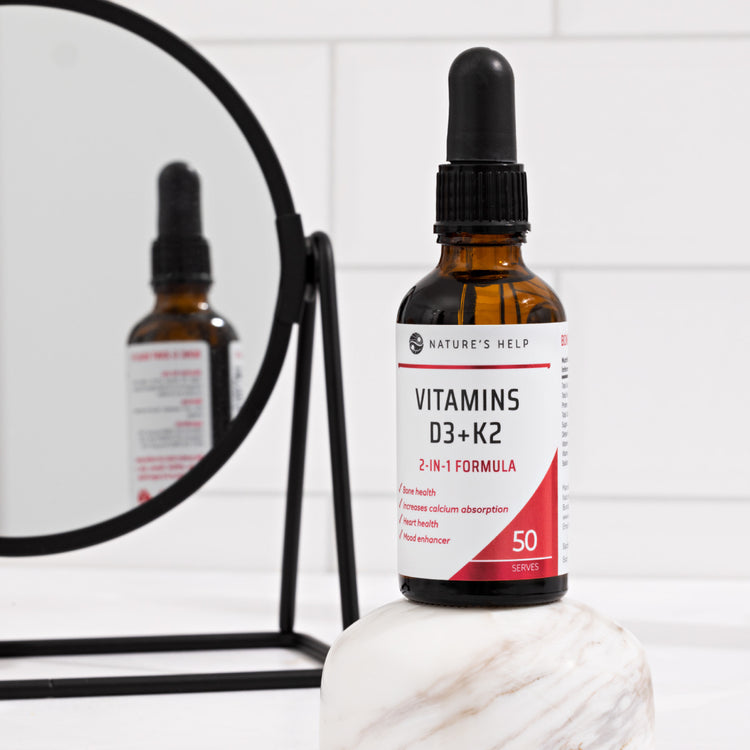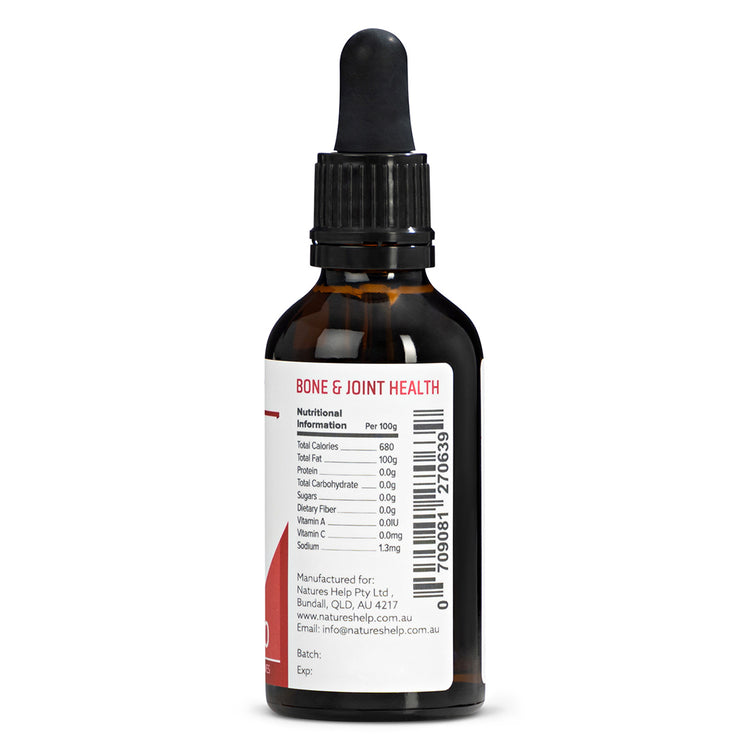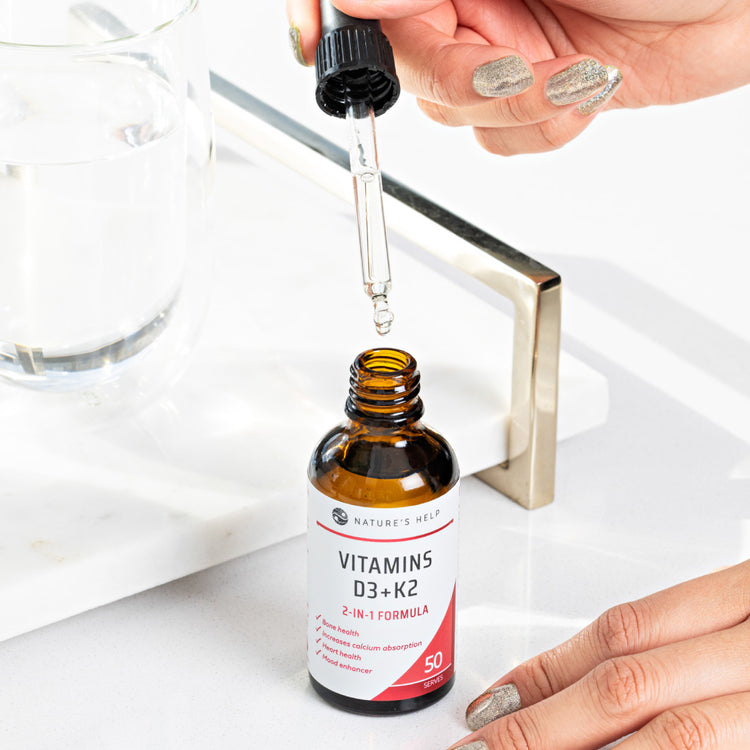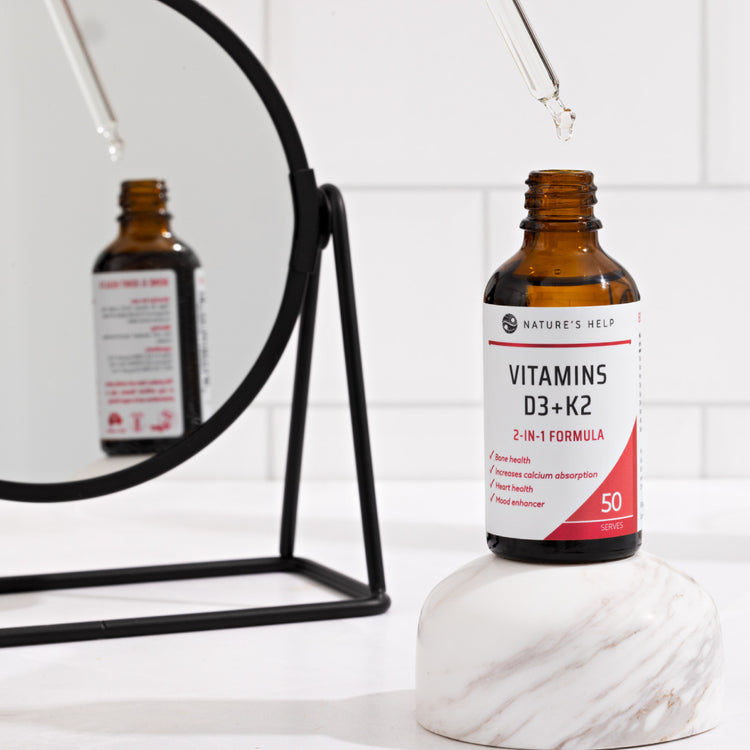 Customer Reviews
Individual results may vary.
Quality Guaranteed
Naturopath Certified
Australian Owned & Operated
Ethically Sourced
Fast & Secure Checkout
Store Info
1. Shipping and Delivery

AUSTRALIAN SHIPPING - via Australia Post:

• Standard Shipping (2-4 business days) - $9.95

• Express Shipping (1-3 business days) - $15.00

FREE EXPRESS SHIPPING on orders above $150

You will be provided with a tracking number when your order has been processed and
is ready for dispatch. You can check the status of your package via the Australia Post website.

Check our SHIPPING POLICY for more info.
2. Money-Back Policy

Please note that you can be eligible for a refund of our Turmeric capsules only if your purchased them from our online store. If you purchased one of our products from another store, you must return the product to the store in which you made your purchase and abide by their returns policy.

To be eligible for a refund under the money back guarantee you must have taken the product as per the suggested daily intake for a period of no less than 30 days. If you are asking or refund of the item(s) because you have changed your mind or any reason other than believing you the product has made no difference to you all, then any postage charge is payable by you. Items to be returned by post are your responsibility until they reach Turmeric Australia, so please make sure that they are securely packaged. See our Returns policy for more information.

Product Assessment:
Once we have established proof of purchase and the products has been taken in accordance with suggested daily dose, we will be able issue a refund.
3. Contact

Did you have:

A question, enquiry, request, or query? A comment, observation, remark, or some feedback?

Well don't be shy, we love hearing from our customers and value your opinions.

Send us an email to info@turmericaustralia.com.au or Call us on 1300 001 558.

We apologise for not having someone to always pick up the phone when you call. We are an online business and unfortunately, that means we don't have a dedicated call centre. If you do not have internet access to place your order or need to speak to someone, please call us on 1300 001 558. We will return all your calls with 24-48 hours.

Our office hours Monday to Thursday from 10:00am to 3:00pm
Friday 10:00am – 1:00pm Queensland Time
Saturday and Sunday – CLOSED