Apple Cider Vinegar with Mother - 60 Capsules
Regular price

Sale price

$29.95
When anything goes wrong in the body, the first place people should look is their gut.
Gut health is fundamentally the centre of our universe and many inflammatory, acute and chronic conditions can be improved if we address the health of our natural immune system.
Apple Cider Vinegar is one of the oldest remedies known to ancient civilizations, originating from the fermentation of apples with the natural healing benefits for digestion, reflux, skin conditions, and immune health.
Many people can't stomach the pungent taste of apple cider vinegar on a regular basis, and that's why we have encapsulated the goodness of apple cider vinegar in an easy-to-swallow capsule.
Our Apple Cider Vinegar has been aged for 9 months in oak barrels before being dried at low temperatures so as not to destroy the natural enzymes and retain the 'mother' (strands of proteins, enzymes, and friendly bacteria)
Now there is no excuse to not take your apple cider vinegar before meals every day.
Ingredients

Each capsule contains 500mg of naturally fermented Australian apple cider vinegar, equivalent to 15ml or approximately 1 metric tablespoon of organic liquid apple cider vinegar.
Benefits

• Relieves heartburn
• Supports healthy cholesterol levels
• Reduces inflammation
• Soothes irritated skin
• Improves digestive health
• Supports elimination pathways
• Supports blood glucose levels
• Antimicrobial and antioxidant
• Improves gut bacteria
• Supports cardiovascular health

HOW THIS FORMULA WORKS?

APPLE CIDER VINEGAR has been the globally loved digestive support supplement for centuries. Lucky for those of us who don't like the flavour of ACV, we can now take it in capsule form.

You get the same great benefits with the same great results, but in an easy to swallow capsule. Apple Cider Vinegar is a natural pre-biotic that helps break down our food for digestion as well as providing a good source of enzymes and friendly bacteria for a happier gut.
Apple Cider Vinegar is best taken before meals to prepare the digestive tract for the food that follows. This process can relieve you of unwanted bloating and wind, and support healthy elimination pathways.

Dosage and Warnings

SUGGESTED USE: take 1-2- capsules per day before food, with glass of warm water.

WARNING: Not suitable for children under 15 years of age or pregnant women. Individuals with known medical conditions should consult with a healthcare practitioner before taking any supplements. If symptoms persist, talk to your health professional.

DOES NOT CONTAIN ANY ANIMAL, GLUTEN OR PEANUT SUBSTANCES.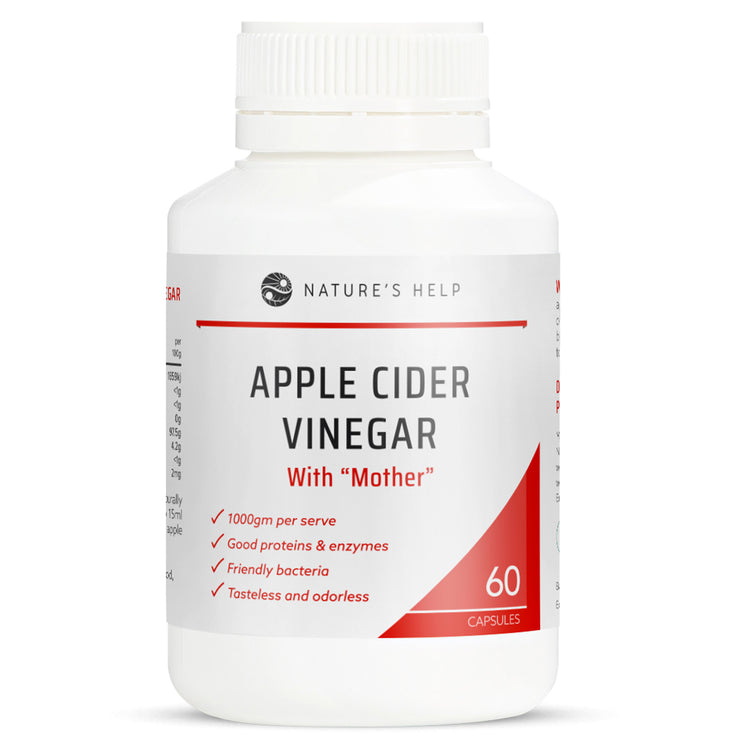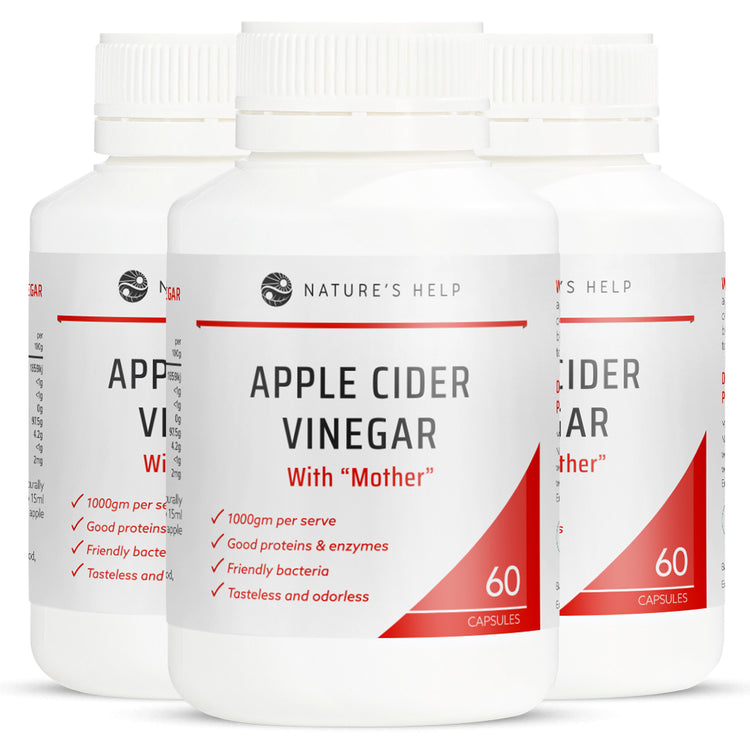 Customer Reviews
Individual results may vary.
Quality Guaranteed
Naturopath Certified
Australian Owned & Operated
Ethically Sourced
Fast & Secure Checkout
Store Info
1. Shipping and Delivery

AUSTRALIAN SHIPPING - via Australia Post:

• Standard Shipping (2-4 business days) - $9.95

• Express Shipping (1-3 business days) - $15.00

FREE EXPRESS SHIPPING on orders above $150

You will be provided with a tracking number when your order has been processed and
is ready for dispatch. You can check the status of your package via the Australia Post website.

Check our SHIPPING POLICY for more info.
2. Money-Back Policy

Please note that you can be eligible for a refund of our Turmeric capsules only if your purchased them from our online store. If you purchased one of our products from another store, you must return the product to the store in which you made your purchase and abide by their returns policy.

To be eligible for a refund under the money back guarantee you must have taken the product as per the suggested daily intake for a period of no less than 30 days. If you are asking or refund of the item(s) because you have changed your mind or any reason other than believing you the product has made no difference to you all, then any postage charge is payable by you. Items to be returned by post are your responsibility until they reach Turmeric Australia, so please make sure that they are securely packaged. See our Returns policy for more information.

Product Assessment:
Once we have established proof of purchase and the products has been taken in accordance with suggested daily dose, we will be able issue a refund.
3. Contact

Did you have:

A question, enquiry, request, or query? A comment, observation, remark, or some feedback?

Well don't be shy, we love hearing from our customers and value your opinions.

Send us an email to info@turmericaustralia.com.au or Call us on 1300 001 558.

We apologise for not having someone to always pick up the phone when you call. We are an online business and unfortunately, that means we don't have a dedicated call centre. If you do not have internet access to place your order or need to speak to someone, please call us on 1300 001 558. We will return all your calls with 24-48 hours.

Our office hours Monday to Thursday from 10:00am to 3:00pm
Friday 10:00am – 1:00pm Queensland Time
Saturday and Sunday – CLOSED