Curcumin Gold High Absorbtion
Regular price

$147.00

Sale price

$132.30
Don't let pain get in the way of living the life you love.
Curcumin Gold uses advanced LipiSperse technology to deliver pain relief where it is needed most. Curcumin is the active ingredient of the world's most loved spice; Turmeric and this new technology drives the anti-inflammatory benefits directly into the bloodstream with just a glass of water.
Turmeric has traditionally been taken with food and is processed through the digestive system, however for people on the go and who just want the best product for the job, then Curcumin Gold is the most advanced and most direct way to get the pain relief you need.
Ingredients

ACTIVE INGREDIENTS PER HARD CAPSULE:
• Curcumin 396 mg, from Curcuma longa (HydroCurc®) 440 mg, equiv. Total Curcuminoids 376 mg

HydroCurc® and LipiSperse® are registered trademarks owned by Pharmako Biotechnologies Pty Ltd.
Benefits

• Anti-inflammatory
• Reduces stiffness and swelling
• Relieves symptoms of mild arthritis
• Award-winning technology for better results
HOW THIS FORMULA WORKS?

Curcumin Gold is different to other natural anti-inflammatories. The award-winning LipiSperse technology allows it to be taken with just water so you get all the benefits of curcumin directly into the cells and tissues where it is needed the most.

This concentrated dose of active curcuminoids from Turmeric can keep you active and healthy for longer. It is the ideal supplement to be taken on the move and all you need is a water bottle.

• Absorbed with water
• Concentrated anti-inflammatory benefits
• Fast relief on the go
Dosage and Warnings

How do I take this product?
Take 2 capsules daily with water or as directed by your healthcare professional.

Does not contain:
Gluten, Wheat, Dairy, Lactose, Soy, Artificial colours, Artificial flavours, Artificial sweeteners, Bee products, Corn, Egg, MSG or any kind of nut. No fillers, additives or preservatives. Capsules are vegetable cellulose origin and are suitable for vegetarians and vegans.

Warning:
Caution Keep out of reach of children, do not use if the seal is broken, store below 30ºC.

Due to Turmeric / Curcumin's anti-coagulant properties, it is advised to stop using 2 weeks scheduled surgery.

Curcumin / Turmeric should not be taking other alongside blood-thinning medications without the permission of health practitioner.

If you are taking blood pressure medication, please consult your healthcare professional before taking Turmeric/Curcumin.

Always read the label and use as directed, supplementary to a balanced diet or as directed by a healthcare professional.

Keep out of reach of children.
Product FAQ's

Q: How do I use Curcumin Gold?
Take 2 capsules daily with water or as directed by your healthcare professional.

Q: What age can I use Curcumin Gold?
If you are over the age of 12 years old you can take this product.

Q: Do I need to refrigerate this product?
Refrigeration is not required. We recommend to keep it in a cool dry place

Q: Can I taste any of the ingredients?
The ingredients are encapsulated in plant based capsules so you can't taste any flavours.

Q: Is Curcumin Gold vegan?
Yes, it is.

Q: Where are your products made?
All Nature's Help products are proudly made in certified facilities right here in Australia.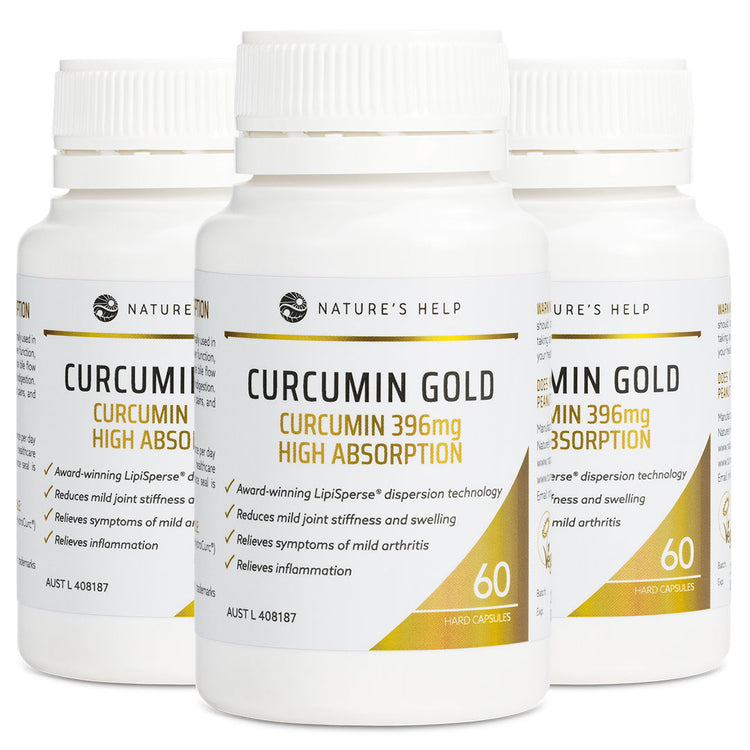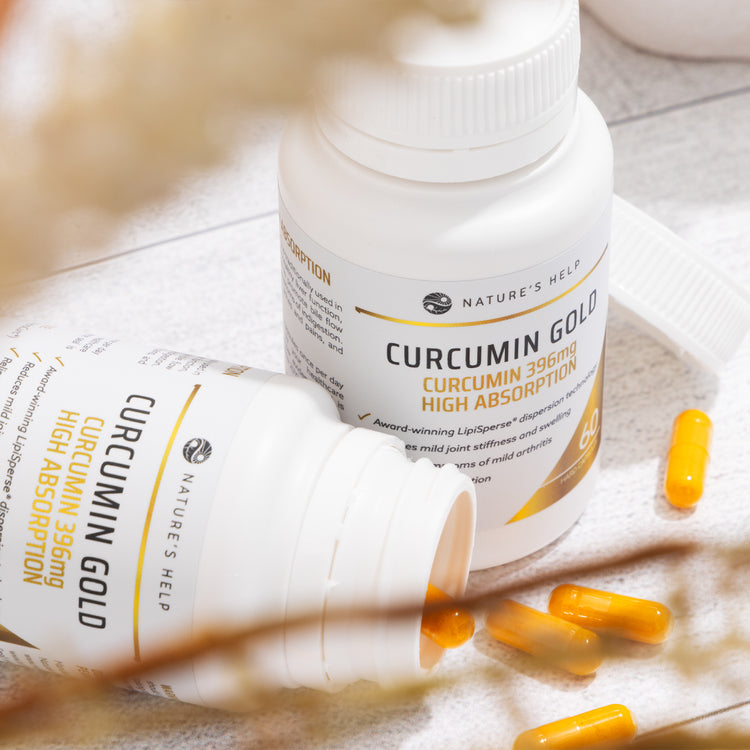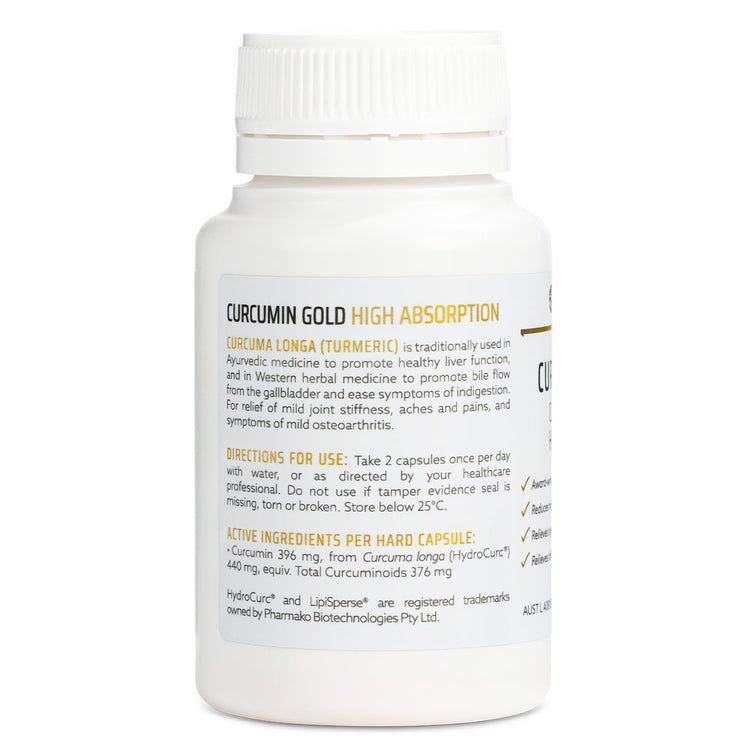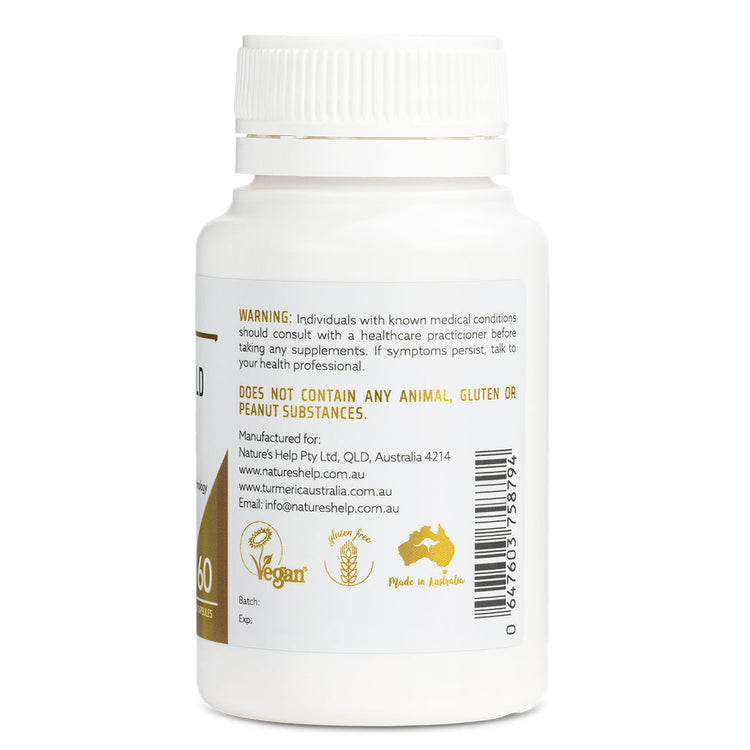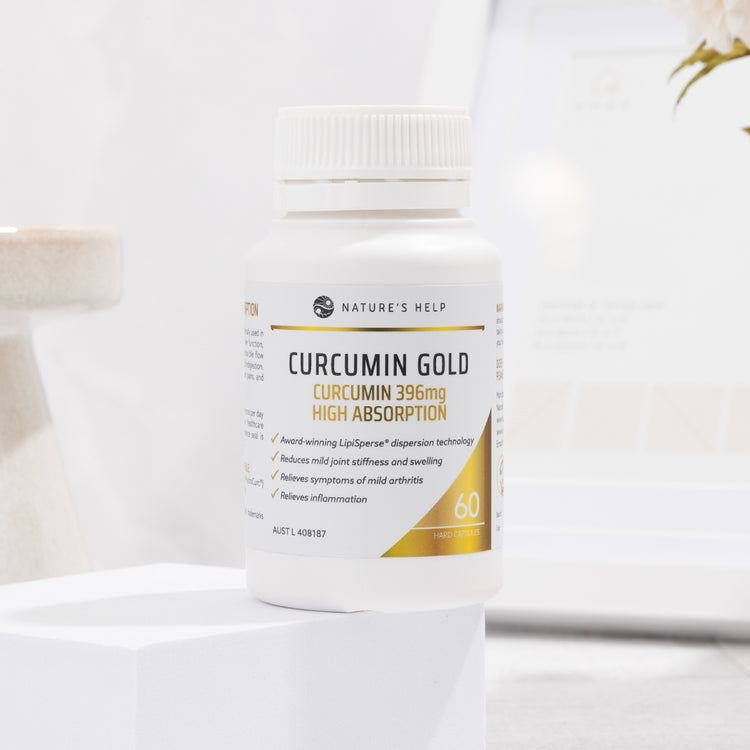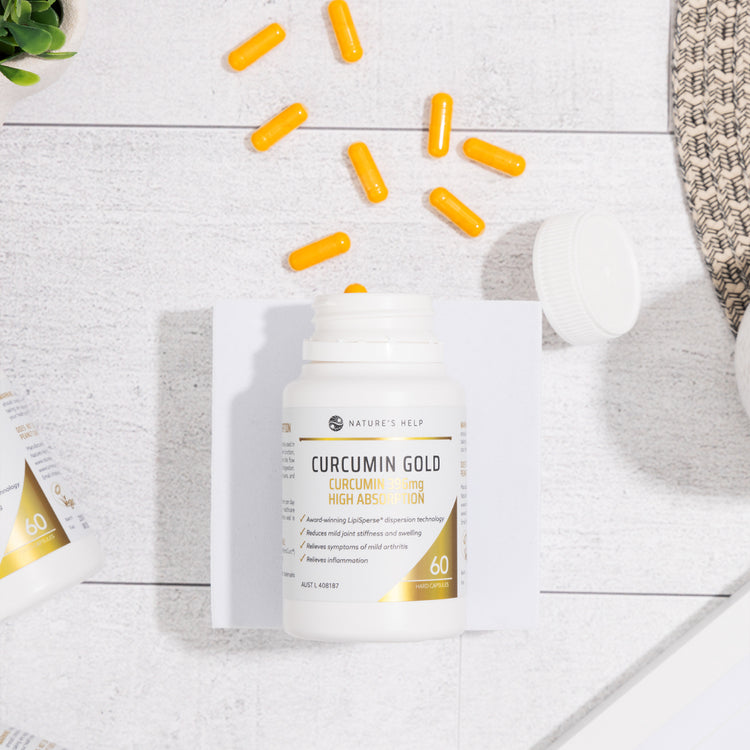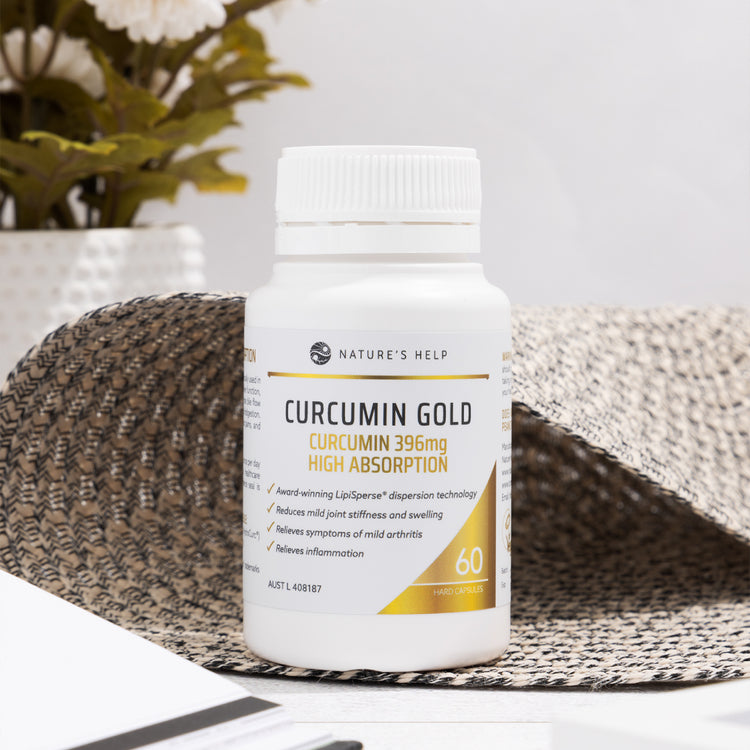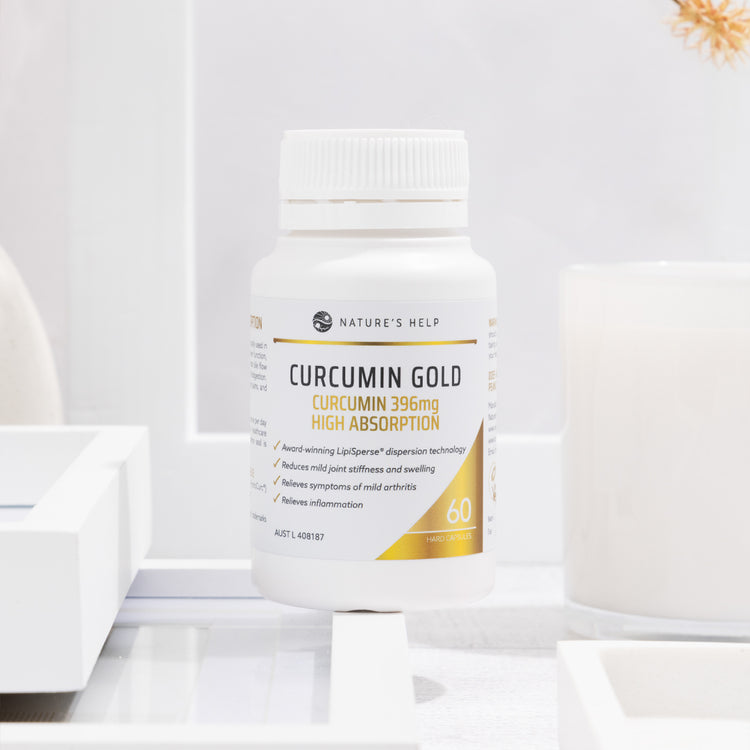 Customer Reviews
Individual results may vary.
Quality Guaranteed
Naturopath Certified
Australian Owned & Operated
Ethically Sourced
Fast & Secure Checkout
Store Info
1. Shipping and Delivery

AUSTRALIAN SHIPPING - via Australia Post:

• Standard Shipping (2-4 business days) - $9.95

• Express Shipping (1-3 business days) - $15.00

FREE EXPRESS SHIPPING on orders above $150

You will be provided with a tracking number when your order has been processed and
is ready for dispatch. You can check the status of your package via the Australia Post website.

Check our SHIPPING POLICY for more info.
2. Money-Back Policy

Please note that you can be eligible for a refund of our Turmeric capsules only if your purchased them from our online store. If you purchased one of our products from another store, you must return the product to the store in which you made your purchase and abide by their returns policy.

To be eligible for a refund under the money back guarantee you must have taken the product as per the suggested daily intake for a period of no less than 30 days. If you are asking or refund of the item(s) because you have changed your mind or any reason other than believing you the product has made no difference to you all, then any postage charge is payable by you. Items to be returned by post are your responsibility until they reach Turmeric Australia, so please make sure that they are securely packaged. See our Returns policy for more information.

Product Assessment:
Once we have established proof of purchase and the products has been taken in accordance with suggested daily dose, we will be able issue a refund.
3. Contact

Did you have:

A question, enquiry, request, or query? A comment, observation, remark, or some feedback?

Well don't be shy, we love hearing from our customers and value your opinions.

Send us an email to info@turmericaustralia.com.au or Call us on 1300 001 558.

We apologise for not having someone to always pick up the phone when you call. We are an online business and unfortunately, that means we don't have a dedicated call centre. If you do not have internet access to place your order or need to speak to someone, please call us on 1300 001 558. We will return all your calls with 24-48 hours.

Our office hours Monday to Thursday from 10:00am to 3:00pm
Friday 10:00am – 1:00pm Queensland Time
Saturday and Sunday – CLOSED