FLATTER ME - Debloat & Detox
Regular price

Sale price

$69.95
Feeling bloated?  You're not alone.  Did you know that 20% of the general population experience bloating at least once per week?  And that number is conservative.
Bloating and digestive discomfort including conditions like irritable bowel, colitis, constipation, diarrhoea, and general abdominal pain is more common in women and can range from moderate to severe symptoms.
Diet and lifestyle factors are the first areas to investigate, including the impact of stress which promotes inflammation and interrupts digestive function.
Flatter Me has been formulated to address the bloating, gas, and abdominal discomfort, supporting elimination pathways, and improving your sense of well-being.  Taking this tasty formula daily ensures your elimination and detoxification pathways are working to help you 'detox and debloat'.
A build-up of toxic waste in the bowel can make us feel sick, nauseous, and lethargic, so activating your digestive pathways is one of the most important things you can do for your health and immunity.
The combination of targeted ingredients in Flatter Me can help you feel back in control of your digestive health.
Ingredients

• Diatomaceous earth
• Pebiotic fibre (galacto-oligosaccharides) (25%)
• Cranberry fruit juice, dried (10%)
• Green Kiwifruit, dried (10%)
• LactoSpore (probiotic bacteria) (8%)
• Flavour (glycine)
• Wellmune (Yeast beta-Glucans) (2.5%)
• Flavour (fennel seed extract)
• Zinc gluconate (zinc 12 mg) (0.8%)
Benefits

• Reduces gas and bloating
• Supports digestive health
• Promotes regular bowel movements
• Improves energy levels
• Healthier looking hair, skin, and nails
• Improved natural immunity
• Removes toxic waste
• Increases hydration and nutrient absorption
• Increases natural gut flora
• Promotes beneficial bacteria
• Good source of fibre
• High source of antioxidants
• Soothes an upset stomach
• Supports urinary health
• Promotes diversity of gut microbiome
• Supports psychological well-being

HOW THIS FORMULA WORKS?

FLATTER ME is the ultimate gut health support supplement. The combination of ingredients is targeted to address digestive discomfort including bloating and bowel regularity.

When our world is spinning out of control, our gut health is the first to respond by sending us signals that something is not right, usually by way of digestive disharmony resulting in intestinal and immune function deterioration.
Flatter Me can be your digestive hero, enhancing beneficial bacteria and getting you moving regularly again. Leave the worries of the world behind you (pun intended) with the tastiest gut support drink you can take safely every day or try it twice a day for 2 weeks to give yourself a clean sweep.

Remember to take Flatter Me with adequate amounts of water.


Dosage and Warnings

SERVING SIZE: 10 grams (1 scoop).

RECOMMENDED USE: Mix one scoop of Flatter Me with water or add to a smoothie for natural sweetening. Enjoy once daily for relief of bloating and irritable bowel, and for a gentle, healthy detox.

Store closed, away from heat and strong light.
Product FAQ's

Q: Who can take Flatter Me?
Flatter Me is recommended for anyone over the age of 12 who experiences abdominal bloating, digestive discomfort, and looking for a gentle, effective daily detox.

Q: How do I take Flatter Me?
Mix 10g (1 scoop) of Flatter Me with water or add to a smoothie for natural sweetening. (10g scoop supplied)

Q: What flavour is Flatter Me?
Flatter Me has a sweet fruity flavour.

Q: Is Flatter Me vegan?
Yes, Flatter me is vegan friendly.

Q: Where are your products made?
All Nature's Help products are proudly made in certified facilities right here in Australia.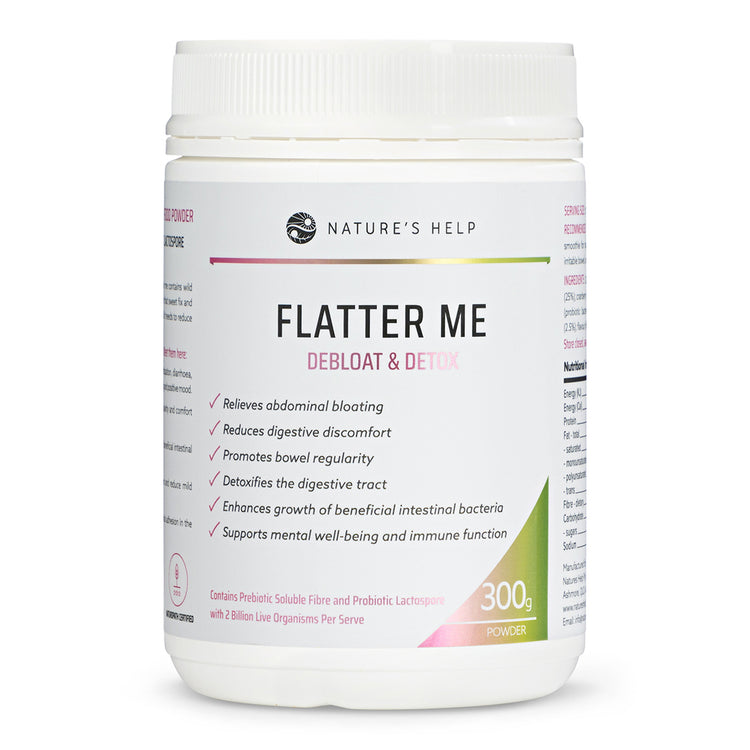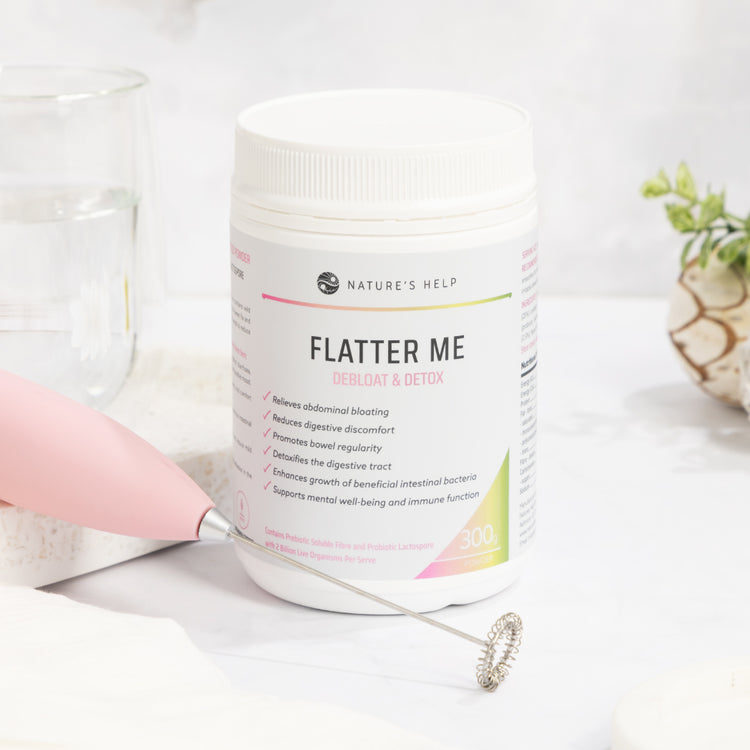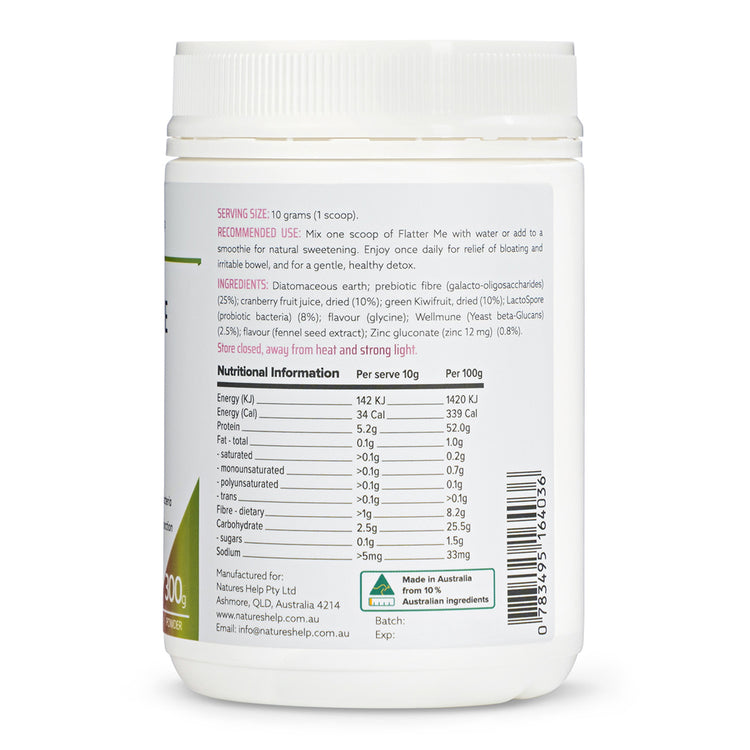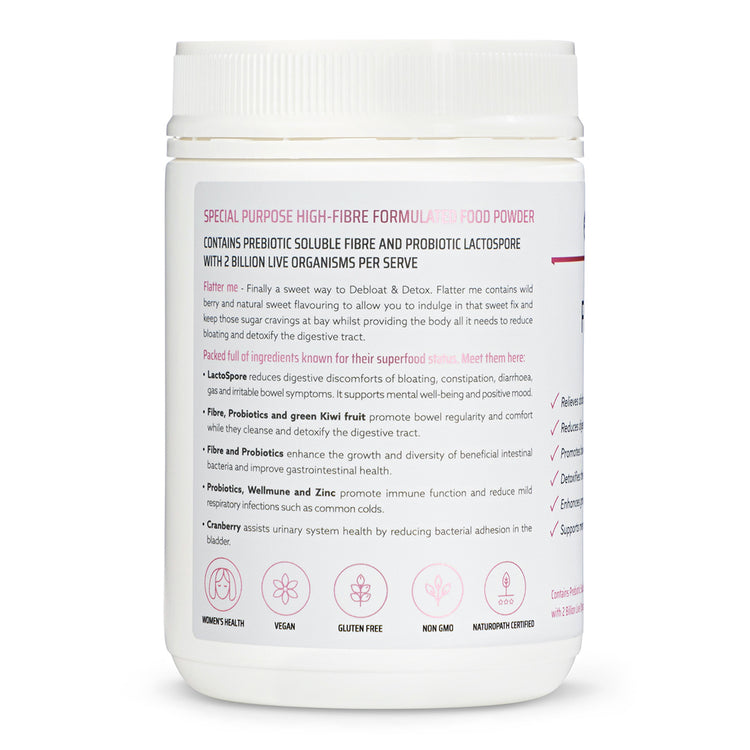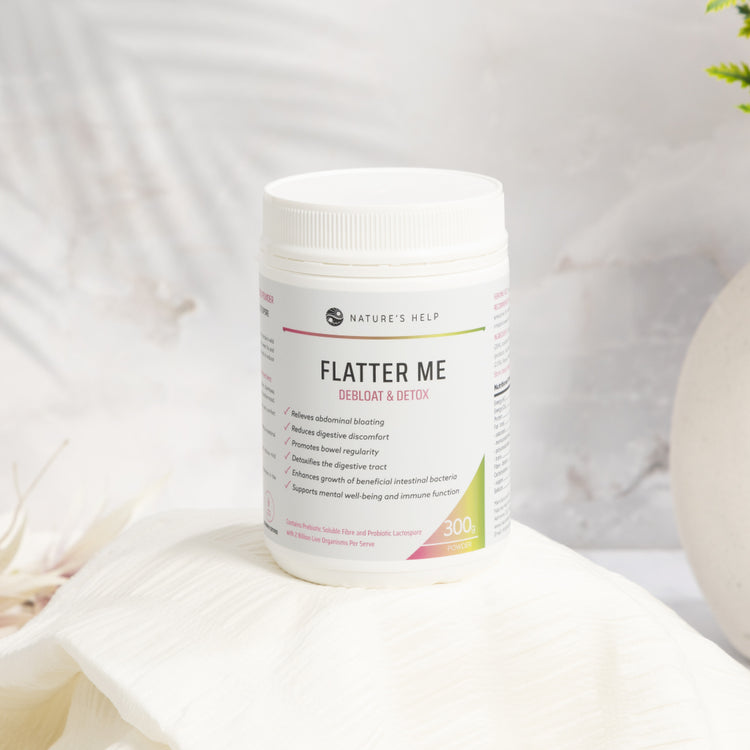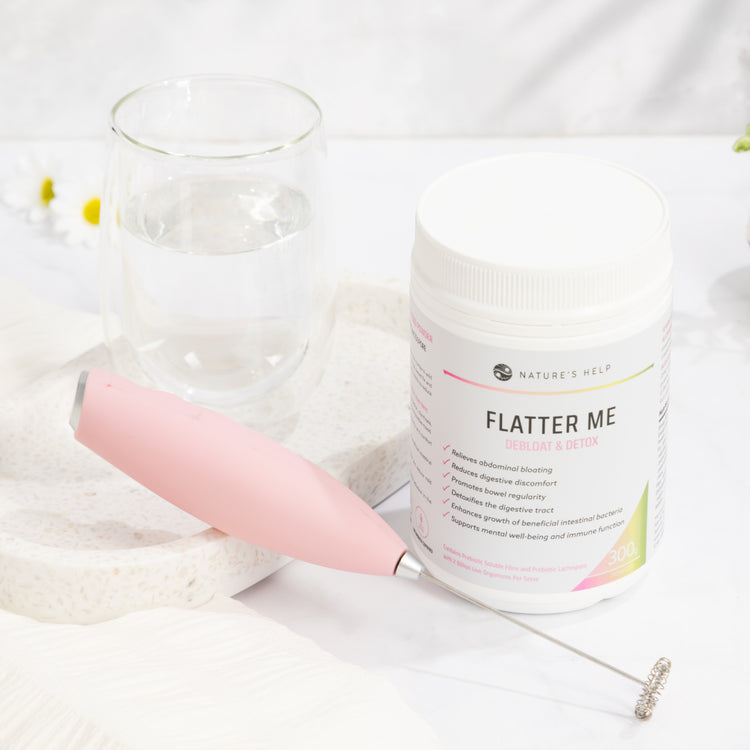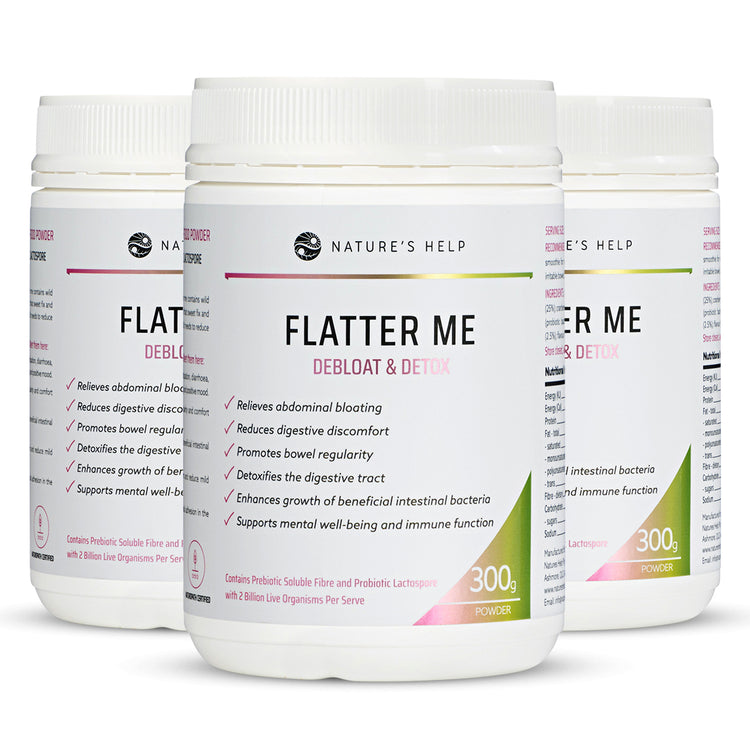 Customer Reviews
Individual results may vary.
Quality Guaranteed
Naturopath Certified
Australian Owned & Operated
Ethically Sourced
Fast & Secure Checkout
Store Info
1. Shipping and Delivery

AUSTRALIAN SHIPPING - via Australia Post:

• Standard Shipping (2-4 business days) - $9.95

• Express Shipping (1-3 business days) - $15.00

FREE EXPRESS SHIPPING on orders above $150

You will be provided with a tracking number when your order has been processed and
is ready for dispatch. You can check the status of your package via the Australia Post website.

Check our SHIPPING POLICY for more info.
2. Money-Back Policy

Please note that you can be eligible for a refund of our Turmeric capsules only if your purchased them from our online store. If you purchased one of our products from another store, you must return the product to the store in which you made your purchase and abide by their returns policy.

To be eligible for a refund under the money back guarantee you must have taken the product as per the suggested daily intake for a period of no less than 30 days. If you are asking or refund of the item(s) because you have changed your mind or any reason other than believing you the product has made no difference to you all, then any postage charge is payable by you. Items to be returned by post are your responsibility until they reach Turmeric Australia, so please make sure that they are securely packaged. See our Returns policy for more information.

Product Assessment:
Once we have established proof of purchase and the products has been taken in accordance with suggested daily dose, we will be able issue a refund.
3. Contact

Did you have:

A question, enquiry, request, or query? A comment, observation, remark, or some feedback?

Well don't be shy, we love hearing from our customers and value your opinions.

Send us an email to info@turmericaustralia.com.au or Call us on 1300 001 558.

We apologise for not having someone to always pick up the phone when you call. We are an online business and unfortunately, that means we don't have a dedicated call centre. If you do not have internet access to place your order or need to speak to someone, please call us on 1300 001 558. We will return all your calls with 24-48 hours.

Our office hours Monday to Thursday from 10:00am to 3:00pm
Friday 10:00am – 1:00pm Queensland Time
Saturday and Sunday – CLOSED