Her BALANCE - The "Sweet" Female Hormone Balancer
Regular price

Sale price

$69.95
Hormone imbalance can be one of the most disruptive issues in a woman's life. It can create havoc in the lives of the healthiest people, leaving you feeling inflamed, irritable, bloated, not sleeping, unsociable, lethargic and like an alien in your own body.
Restoring hormone harmony can change your life and it begins with Her Balance, a scientifically formulated combination of ingredients to address all body systems in women from menstruation to menopause.
Together these 'sweet 16' ingredients offer a wide range of benefits including supporting immunity, brain, liver, and thyroid health, reducing stress, and improving sleep, and digestion.
Her Balance uses herbs, vitamins, amino acids and pro-biotics to calm the flames of hormonal chaos and restore hormone harmony, in one tasty formula you add to water daily. It will change your life!
Ingredients

EACH 10g DOSE CONTAINS:

• Silybum marianum (Milk Thistle) dry ext. 85.7mg equiv. to dry fruit 6g

• Ulmus rubra (Slippery Elm) inner stem bark powder 500mg

• D-alpha tocopheryl acid succinate (Vitamin E) 100mg equiv. to 116.2 IU

• Withania somnifera (Ashwagandha) dry ext. 150mg equiv. to dry root 3g

• Vitex agnus-castus (Chaste Tree) dry ext. 4mg equiv. to dry fruit 40mg

• Eleutherococcus senticosus (Siberian ginseng) dry ext. 133.3mg equiv. to dry root 2g

• Zingiber officinale (Ginger) dry ext. 37.5mg equiv. to dry rhizome 750mg

• Fucus vesiculosus (Bladderwrack) dry ext. 200mg equiv. to whole dry plant 1g, and to iodine 300 micrograms

• Cinnamomum cassia (Cinnamon) dry ext. 25mg equiv. to dry stem bark 500mg

• Actaea racemosa (Black Cohosh) dry ext. 13.3mg equiv. to 99.8mg dry rhizome

• Zizyphus jujuba (Jujube) dry ext. 100mg equiv. to 3g dry seed

• Glycine 1.5g

• Psyllium husk powder 1g

• Choline bitartrate 310mg equiv. to choline 127.5mg

• Ascorbic acid (Vitamin C) 500mg

• Saccharomyces cerevisiae boulardii (Probiotic) 50mg equiv. to 1 billion viable organisms.

Benefits

• Enhances female hormone regulation
• Supports brain and thyroid function
• Supports liver detoxification
• Relieves nausea and indigestion
• Eases symptoms of mild anxiety
• Promotes restful sleep
• Soothes the digestive tract
• Promotes beneficial bacteria
• Supports immune system health
• Protects from free radical damage
• Reduces bloating and irritability
• Regulates adrenal hormones
• Stabilises energy levels
• Supports glucose metabolism
• Supports uterine health
• Supports collagen formation
• Enhances wound healing
• Supports DNA and cellular structures
• Improves mental health

HOW THIS FORMULA WORKS?

HER BALANCE is the foundation product for hormone harmony. The carefully selected herbs, amino acids, vitamins, and probiotics will give your body what it needs to calm the chaos.

Nature has long provided the solution to many health problems and when the busyness of modern life overwhelms us, it's our hormones that react in ways that are not always conducive to good health. Think of Her Balance as the building blocks for better hormone health. By addressing all the body pathways that contribute to homeostasis, we can expect improved hormone regulation, better sleep, supported liver detoxification, anxiety relief and a better sense of well-being.

16 core ingredients make up Her Balance in a tasty powder you can add to water or your favourite smoothie every day.

Dosage and Warnings

DIRECTIONS FOR USE: Add 10 g (measuring scoop provided) to water, juice or a smoothie. Mix well. Take once daily with food.

WARNINGS: Adults only. Vitex agnus-castus may affect hormones and medicines such as oral contraceptives; talk to your health professional before use.

In very rare cases, black cohosh has been associated with liver failure. If you are experiencing yellowing of the skin or whites of the eyes; dark urine; nausea; vomiting; unusual tiredness; weakness; stomach or abdominal pain; and/or loss of appetite: you should stop using this product and see your doctor. If symptoms persist, talk to your health professional.

Vitamins and minerals should not replace a balanced diet.

Store closed, away from heat and strong light.
Product FAQ's

Q: How do I take Her Balance?
Her Balance is a pleasant tasting herbal and nutritional tonic.

Q: Who can take Her Balance?
Her Balance has been created for women from menstruation to menopause age.

Q: What does Her Balance do?
Her Balance has been scientifically formulated to balance hormones naturally as well as other benefits like supporting immunity, brain, liver, and thyroid health, reducing stress, improving sleep, and digestion.

Q: How does this product compare to other similar products on the market?
Unlike competitor's products, we can proudly say that Her Balance is a registered product with the Therapeutic Goods Administration of Australia.

Q: Are there any contraindications with taking Her Balance?
Women who are under the care of an oncologist, receiving oncology treatment, prescribed HRT or oral contraceptives should consult with their practitioner when taking any natural supplements.

Q: Is Her Balance vegan?
Yes, it is.

Q: Where are your products made?
All Nature's Help products are proudly made in certified facilities right here in Australia.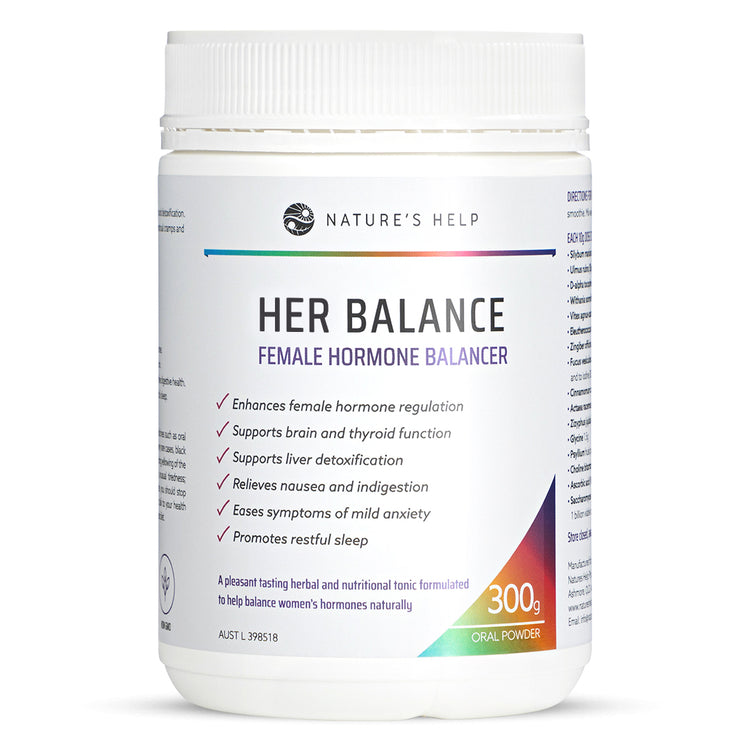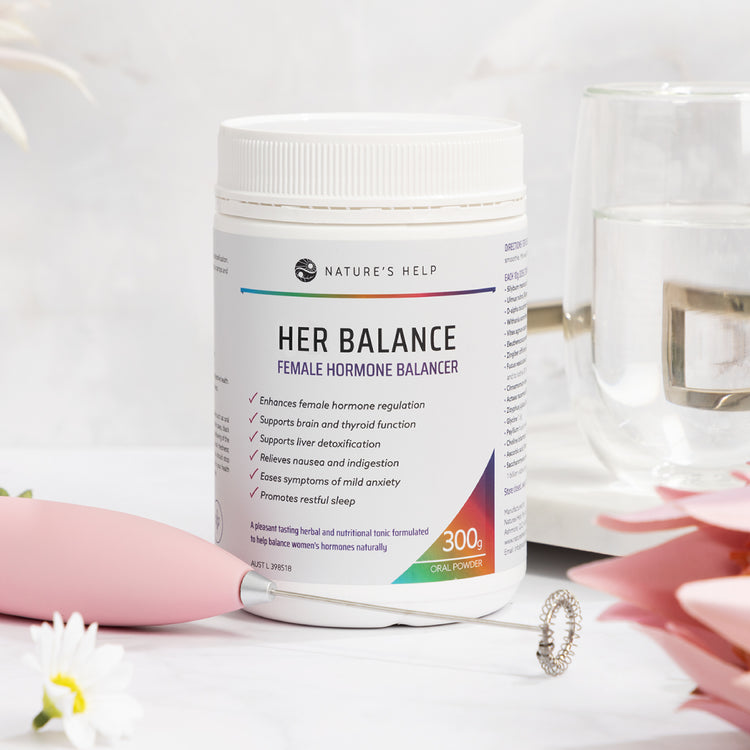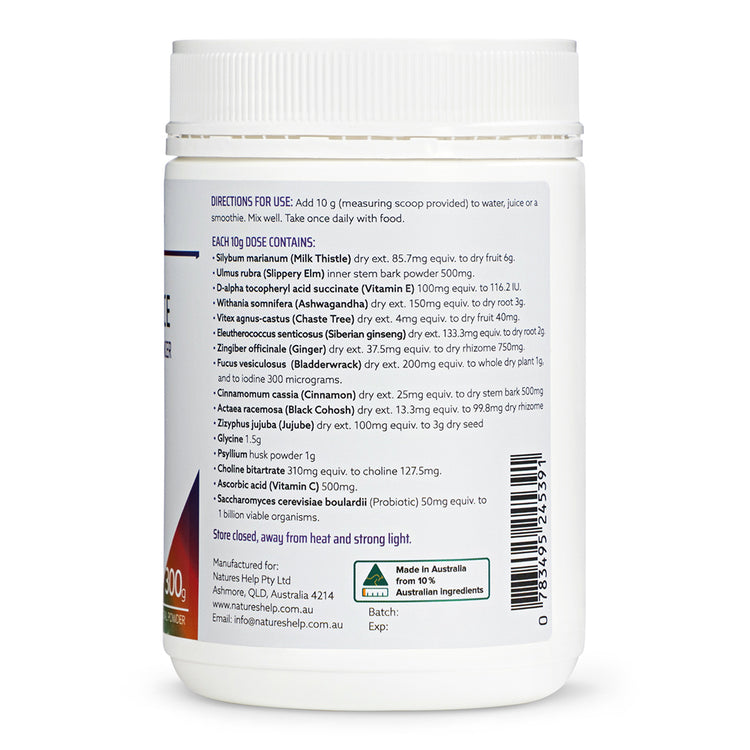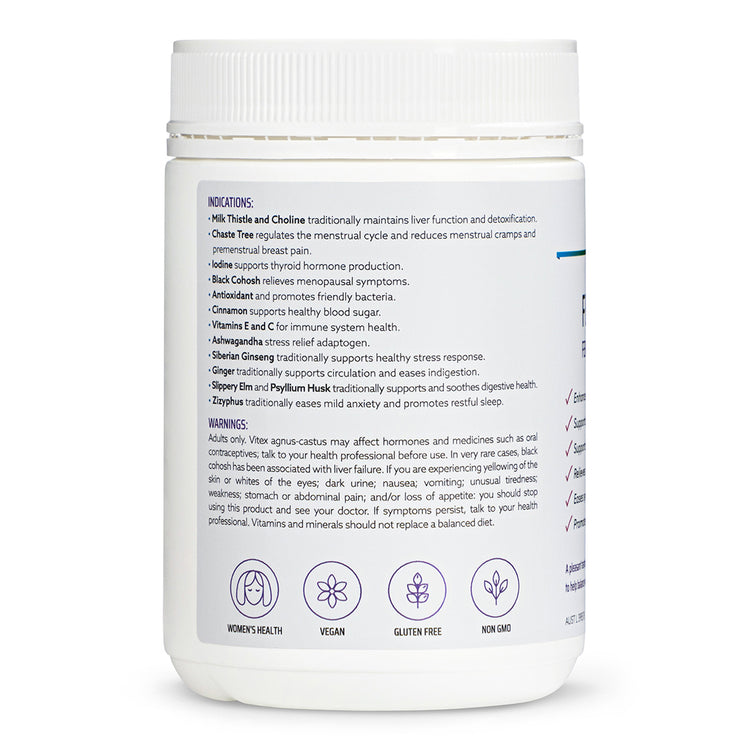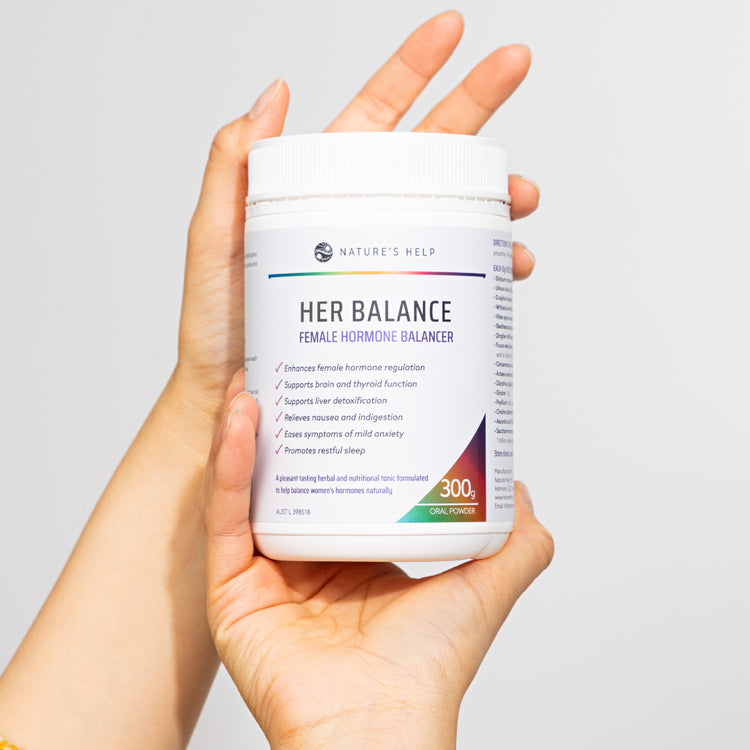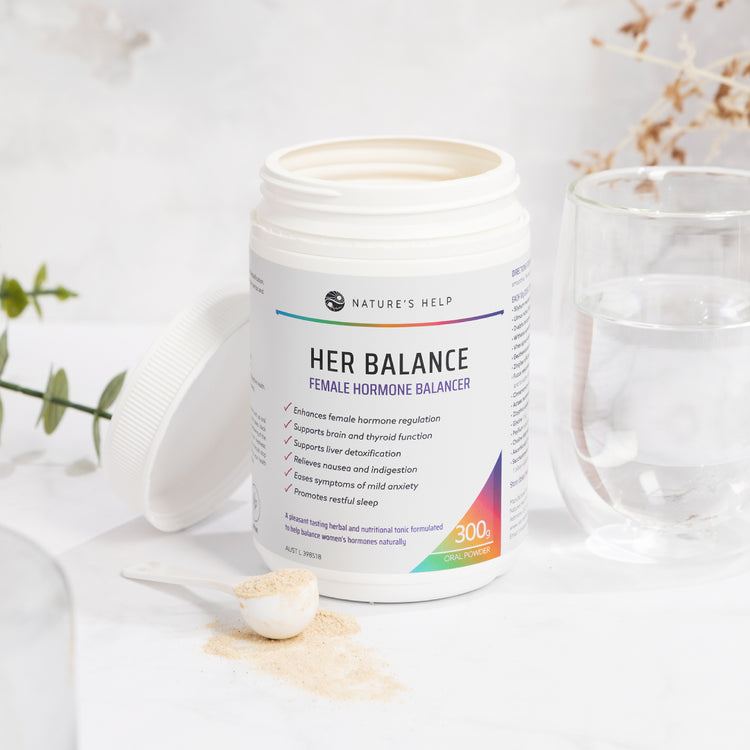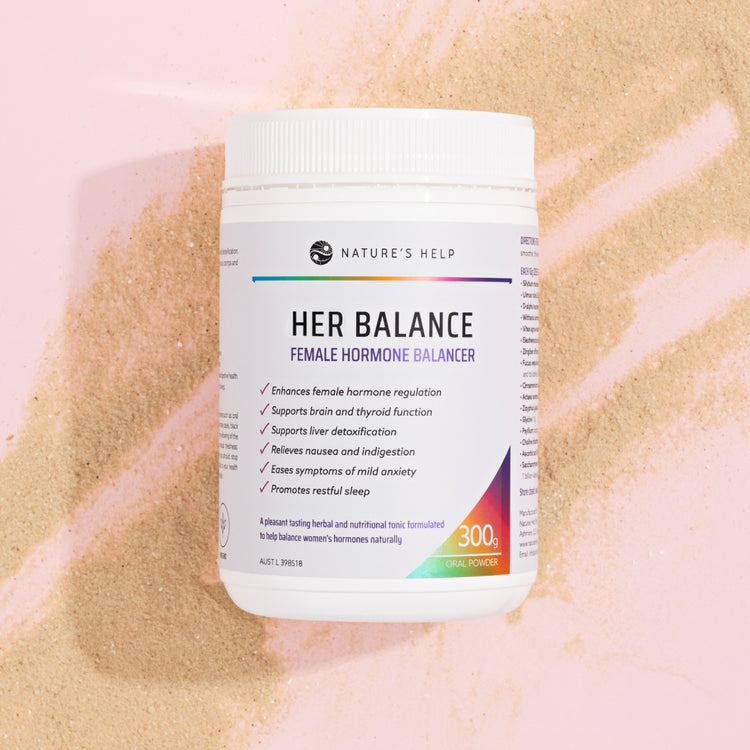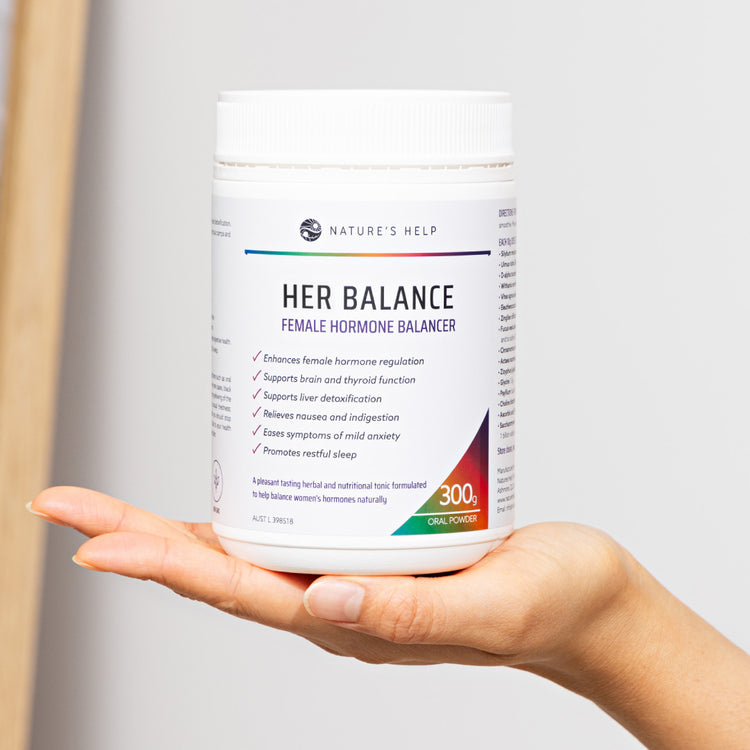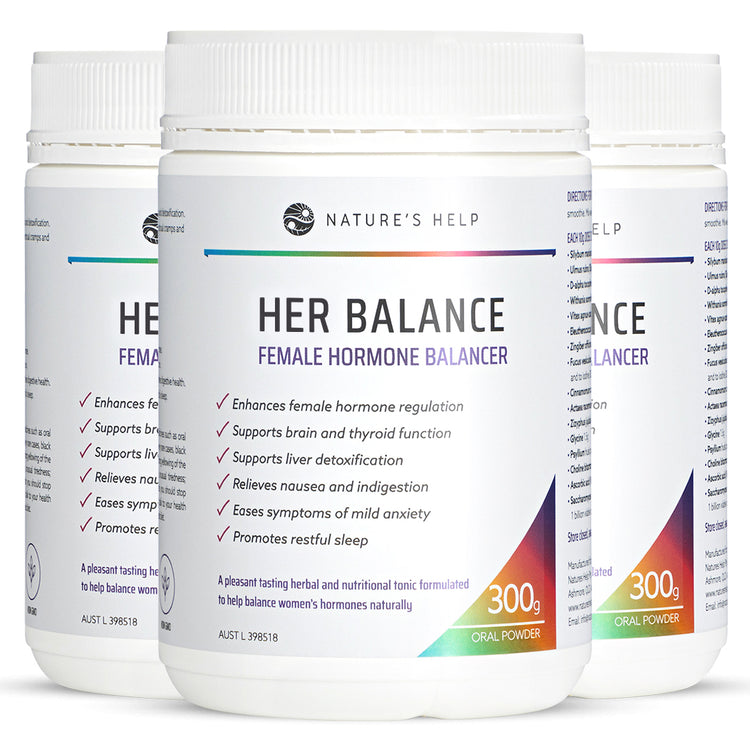 Customer Reviews
Individual results may vary.
Quality Guaranteed
Naturopath Certified
Australian Owned & Operated
Ethically Sourced
Fast & Secure Checkout
Store Info
1. Shipping and Delivery

AUSTRALIAN SHIPPING - via Australia Post:

• Standard Shipping (2-4 business days) - $9.95

• Express Shipping (1-3 business days) - $15.00

FREE EXPRESS SHIPPING on orders above $150

You will be provided with a tracking number when your order has been processed and
is ready for dispatch. You can check the status of your package via the Australia Post website.

Check our SHIPPING POLICY for more info.
2. Money-Back Policy

Please note that you can be eligible for a refund of our Turmeric capsules only if your purchased them from our online store. If you purchased one of our products from another store, you must return the product to the store in which you made your purchase and abide by their returns policy.

To be eligible for a refund under the money back guarantee you must have taken the product as per the suggested daily intake for a period of no less than 30 days. If you are asking or refund of the item(s) because you have changed your mind or any reason other than believing you the product has made no difference to you all, then any postage charge is payable by you. Items to be returned by post are your responsibility until they reach Turmeric Australia, so please make sure that they are securely packaged. See our Returns policy for more information.

Product Assessment:
Once we have established proof of purchase and the products has been taken in accordance with suggested daily dose, we will be able issue a refund.
3. Contact

Did you have:

A question, enquiry, request, or query? A comment, observation, remark, or some feedback?

Well don't be shy, we love hearing from our customers and value your opinions.

Send us an email to info@turmericaustralia.com.au or Call us on 1300 001 558.

We apologise for not having someone to always pick up the phone when you call. We are an online business and unfortunately, that means we don't have a dedicated call centre. If you do not have internet access to place your order or need to speak to someone, please call us on 1300 001 558. We will return all your calls with 24-48 hours.

Our office hours Monday to Thursday from 10:00am to 3:00pm
Friday 10:00am – 1:00pm Queensland Time
Saturday and Sunday – CLOSED