ULTRA MAGNESIUM - Super Blend 150g
Regular price

Sale price

$36.95
Magnesium deficiency is more common than you think and it's more than just about muscle cramps.
Did you know that symptoms such as fatigue, irritability, headaches, abnormal heart rhythm, high blood pressure, and poor sleep can all be signs of magnesium deficiency?
Magnesium is a mineral essential for the regulation of many essential bodily functions, including healthy muscles, nerves, bones, and blood levels, including brain health.
It's really common to be magnesium deficient because it's a water-soluble mineral that we lose through sweat and urine, and if we are not replacing it through a diet of green leafy vegetables, then the next best thing is a magnesium supplement.
Ultra Magnesium is a super blend of powerful ingredients formulated to support your lifestyle.  It provides a high dose of bioavailable magnesium citrate that absorbs readily when you need it most.
We have added co-factors to Ultra Magnesium like B vitamins for nervous system support and CoQ10 to help in the metabolism of food into energy.   Other co-factors include Biotin for healthy hair, skin, and nails, and Folinic Acid for cardiovascular health.  The addition of Turmeric helps reduce inflammation, cramping, bloating and indigestion.
Ultra Magnesium is a tasty formula you can take safely every day.
Ingredients

• Magnesium (as magnesium citrate) 175mg
• Thiamine (Vit. B1) (as thiamine hydrochloride) 7.5mg
• Riboflavin(Vit. B2) (as riboflavin sodium phosphate) Equiv. Riboflavin 7.45mg
• Nicotinamide (Vit. B3) 25mg
• Pantothenic acid (Vit. B5) (as calcium pantothenate) 19.95mg
• Pyridoxine (Vit. B6) (as pyridoxine hydrochloride) Equiv. Pyridoxine 6.15mg
• Biotin 150 micrograms
• Folinic acid (as calcium folinate) 184.5 micrograms
• Mecobalamin (B12) 50 micrograms
• Ubidecarenone (Coenzyme Q10) 40mg
• Curcuma longa (Turmeric) rhizome ext. conc. 400mg equiv. dry rhizome 10g
Benefits

• Supports muscle relaxation
• Relieves muscle aches, pains and cramps
• Eases stress and mild anxiety
• Maintains healthy immunity
• Aids in healthy red blood cell production
• Assists the metabolism of food into energy
• Reduces inflammation
• Supports nervous system health
• Supports mental focus, clarity, and concentration
• Supports healthy DNA replication
• Promotes healthy hair, skin, and nails
• Supports cardiovascular health
• Supports brain health
• Reduces free radicals
• Supports healthy digestion
• Reduces free radicals formed in the body
• Promotes bile flow from the liver
• Decreases damage to body cells

HOW THIS FORMULA WORKS?

ULTRA MAGNESIUM with magnesium citrate is one of the most popular types of magnesium because it is easily absorbed by the body. It can raise magnesium levels quickly and efficiently, so you get relief sooner from muscle aches, pains and cramps.

We have combined magnesium with a Vitamin B formulation to support energy and hormone pathways. Co-enzyme Q10 provides metabolic reinforcement, and Turmeric boosts anti-inflammatory and antioxidant pathways.
Together, this powerful supplement will keep you hydrated and moving with less pain and a speedier recovery time. Ultra Magnesium is a tasty formula you can take safely every day. Add it to your water bottle, take it to work and on holidays. There's no reason to let pain and discomfort stop you from doing the life you love.

Dosage and Warnings

DOSAGE: Mix 5g (1 scoop) of powder into water, juice or a smoothie once or twice daily. (5g scoop supplied)

WARNING:
Adults Only. Do not take while on warfarin therapy without medical advice. If symptoms persist, talk to your health professional. Vitamins, minerals or dietary supplements should not replace a balanced diet.

Store below 25ºC away from strong light.
Product FAQ's

Q: Who can take Ultra Magnesium?
Ultra Magnesium is for active females of any age who experience fatigue, irritability, headaches, abnormal heart rhythm, high blood pressure, abnormal calcium or potassium levels

Q: How do I take Ultra Magnesium?
Mix 5g (1 scoop) of powder into water, juice or a smoothie once or twice daily. (5g scoop supplied)

Q: Do I need to refrigerate this product?
Refrigeration is not required. We recommend to keep it in a cool dry place

Q: What flavour is Ultra Magnesium?
Ultra Magnesium has a pleasant citrus flavour.

Q: Is Ultra Magnesium vegan?
Yes, Ultra Magnesium is vegan friendly.

Q: Where are your products made?
All Nature's Help products are proudly made in certified facilities right here in Australia.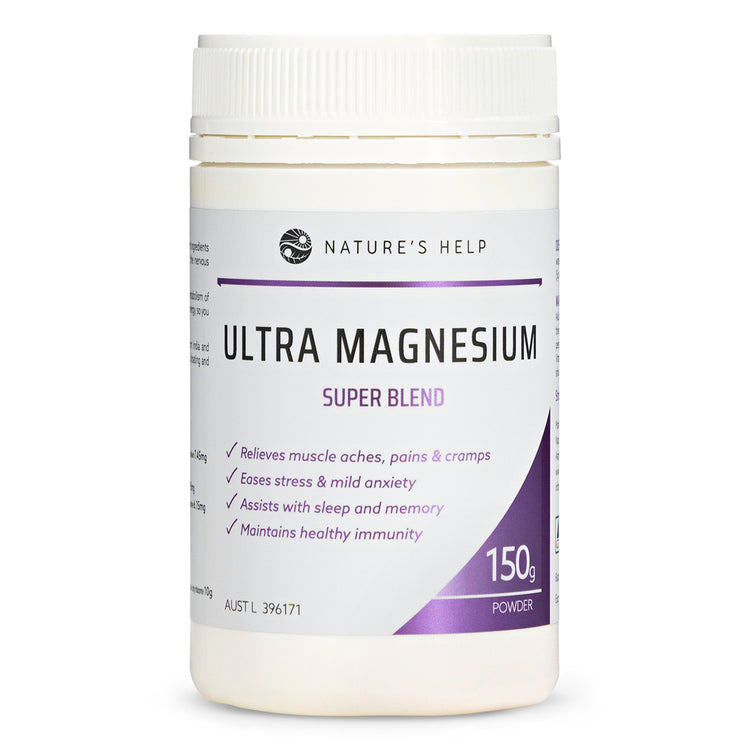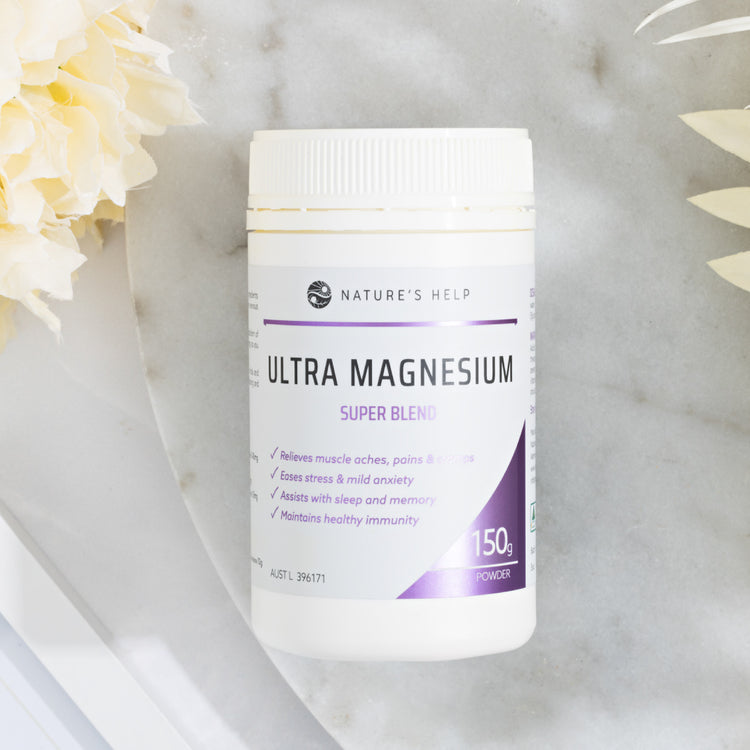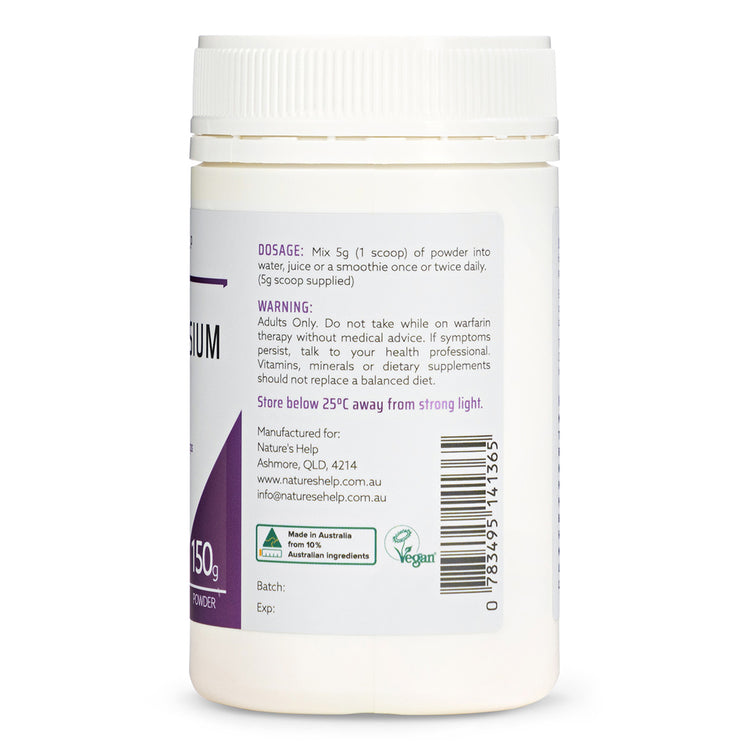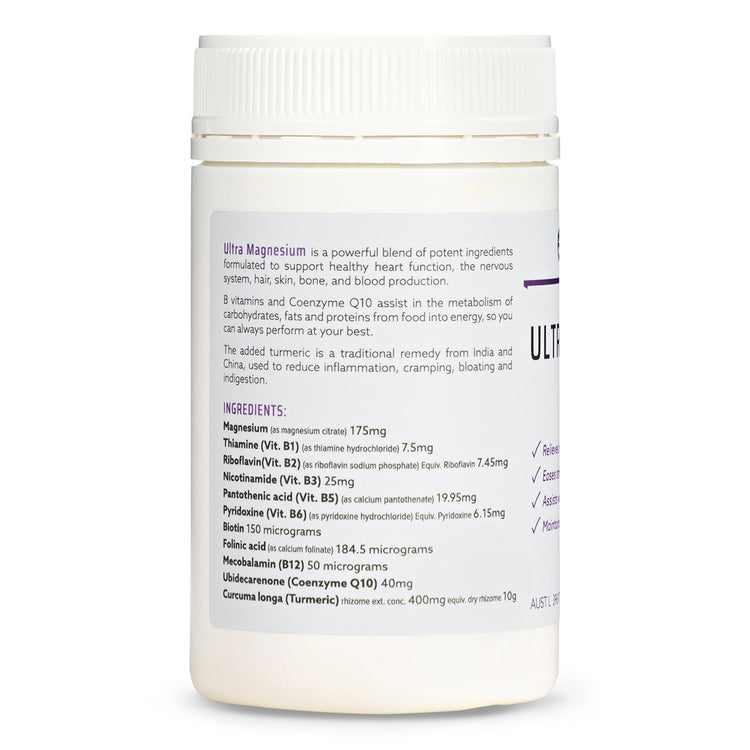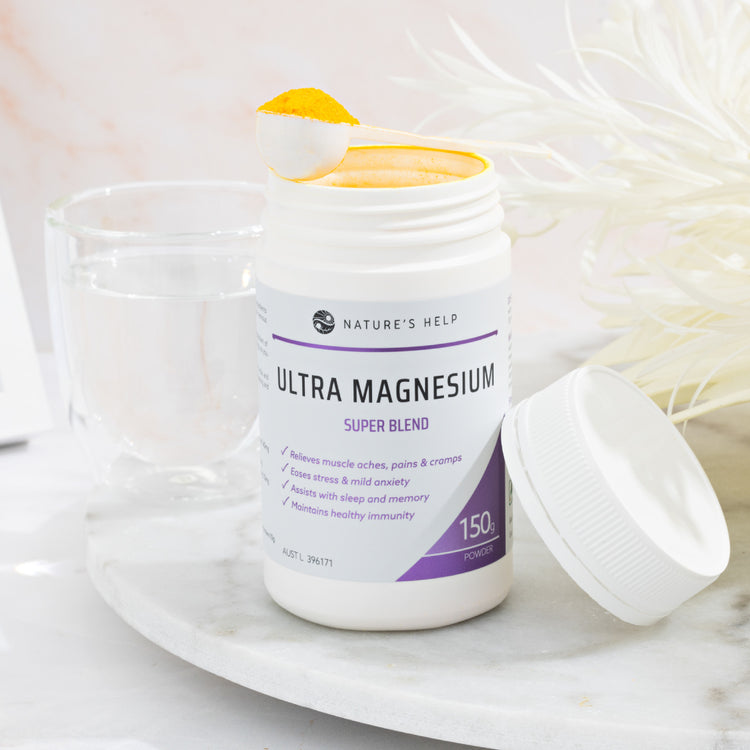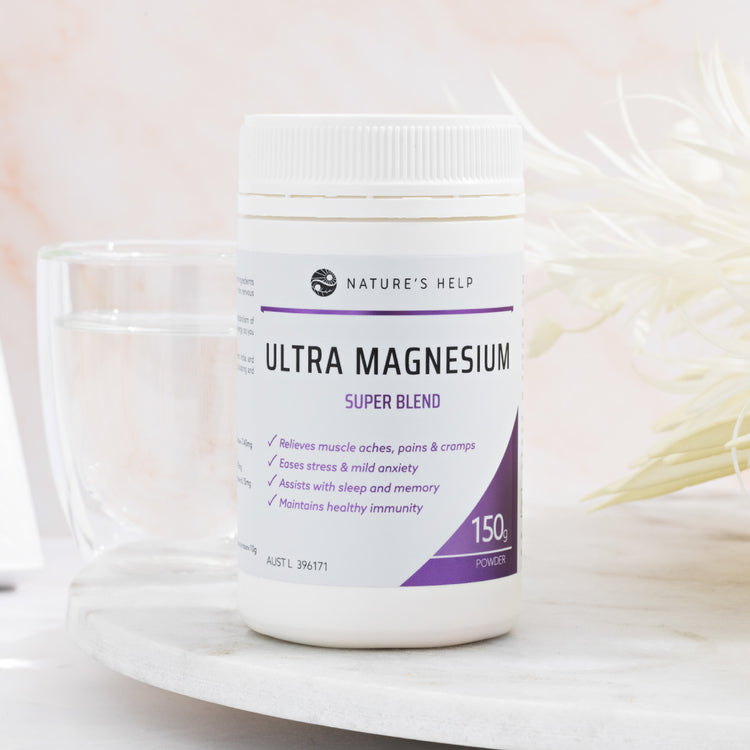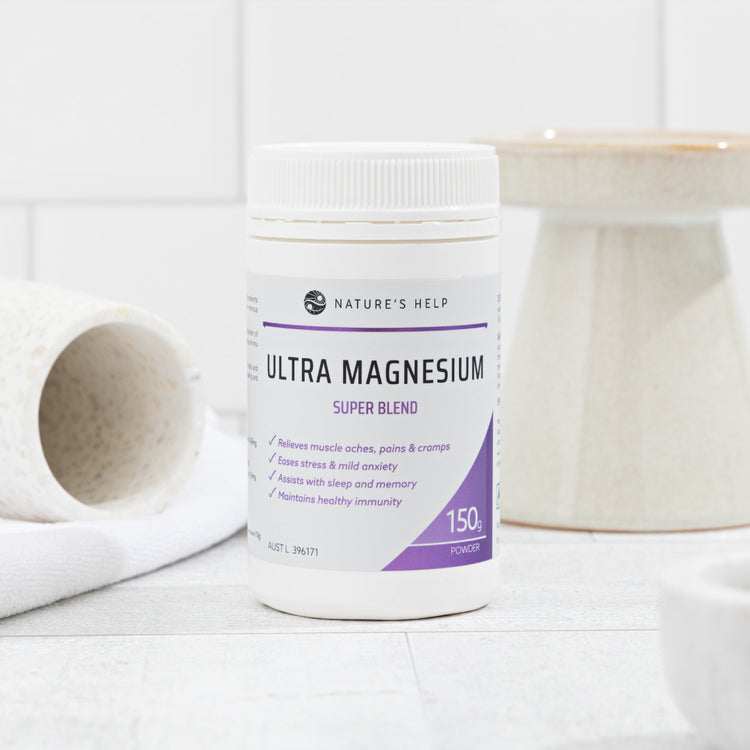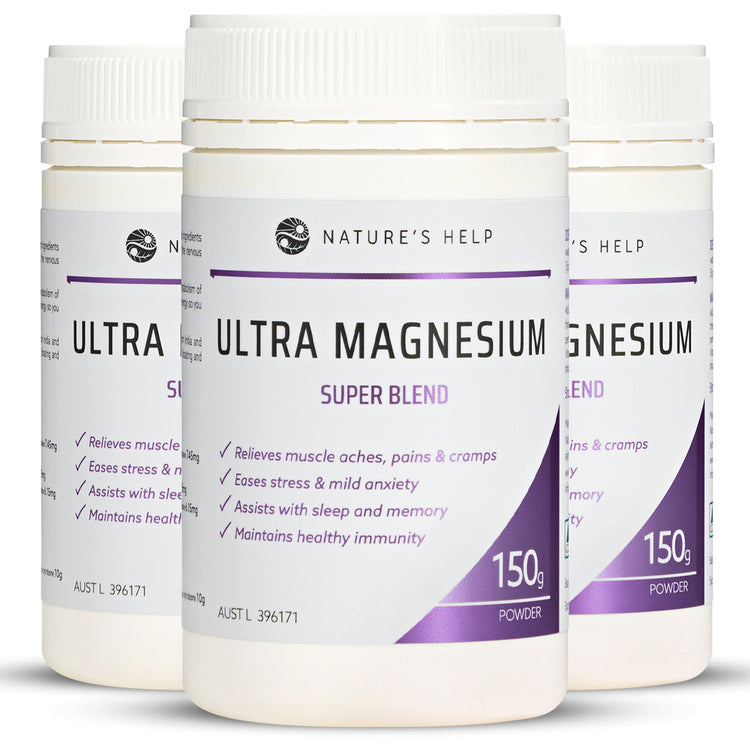 Customer Reviews
Individual results may vary.
Quality Guaranteed
Naturopath Certified
Australian Owned & Operated
Ethically Sourced
Fast & Secure Checkout
Store Info
1. Shipping and Delivery

AUSTRALIAN SHIPPING - via Australia Post:

• Standard Shipping (2-4 business days) - $9.95

• Express Shipping (1-3 business days) - $15.00

FREE EXPRESS SHIPPING on orders above $150

You will be provided with a tracking number when your order has been processed and
is ready for dispatch. You can check the status of your package via the Australia Post website.

Check our SHIPPING POLICY for more info.
2. Money-Back Policy

Please note that you can be eligible for a refund of our Turmeric capsules only if your purchased them from our online store. If you purchased one of our products from another store, you must return the product to the store in which you made your purchase and abide by their returns policy.

To be eligible for a refund under the money back guarantee you must have taken the product as per the suggested daily intake for a period of no less than 30 days. If you are asking or refund of the item(s) because you have changed your mind or any reason other than believing you the product has made no difference to you all, then any postage charge is payable by you. Items to be returned by post are your responsibility until they reach Turmeric Australia, so please make sure that they are securely packaged. See our Returns policy for more information.

Product Assessment:
Once we have established proof of purchase and the products has been taken in accordance with suggested daily dose, we will be able issue a refund.
3. Contact

Did you have:

A question, enquiry, request, or query? A comment, observation, remark, or some feedback?

Well don't be shy, we love hearing from our customers and value your opinions.

Send us an email to info@turmericaustralia.com.au or Call us on 1300 001 558.

We apologise for not having someone to always pick up the phone when you call. We are an online business and unfortunately, that means we don't have a dedicated call centre. If you do not have internet access to place your order or need to speak to someone, please call us on 1300 001 558. We will return all your calls with 24-48 hours.

Our office hours Monday to Thursday from 10:00am to 3:00pm
Friday 10:00am – 1:00pm Queensland Time
Saturday and Sunday – CLOSED