Pet Probiotic with Turmeric Powder – 150g
Regular price

Sale price

$29.95
Pets can bring so much joy into our lives and it's important we keep them as healthy and active as long as we can.  One of the best ways is to add some extra goodness into their daily meals with our Pet Probiotic with Turmeric.   It contains all the goodness of both pre and probiotics in a delicious chicken bone broth flavour that your pets will love.
Pet Probiotic contains all the health benefits of Turmeric that we know and love, combined with black pepper and coconut powder for easier absorption.  It's so natural and tasty and made from the highest quality ingredients, that every member of your fur family will benefit.
Ingredients

Each 5g serve contains:
• 655.5mg Organic turmeric powder
• 50mg Coconut powder
• 2mg Black pepper (piper nigrum)
• Brothy chicken vegetable protein extract (vegan friendly)
• Prebiotic: 70mg inulin
• Probiotic: Lactobacillus plantarum, Lactobacillus acidophilus. Total 1 billion good bacteria per serve.
Benefits

• Natural and Organic
• 1 Billion good bacteria per serve
• Tasty chicken broth flavour
• Contains Turmeric with Black Pepper
• Includes coconut powder for absorption
• Relieves joint pain and inflammation
• Soothes skin irritations
• Vegan friendly
HOW THIS FORMULA WORKS?

Pet Probiotic combines all the goodness of beneficial bacteria with turmeric, black pepper, and coconut in a tasty powder that blends easily into your furry friends' meals. A daily sprinkle is all it takes to keep your pet in tip top condition and by your side a little longer.
Dosage and Warnings

Directions for use:
For beginners mix a ¼ of a teaspoon into normal pet food for the first few days and increase gradually to the recommended daily serve.

Daily consumption guide:
• SMALL PET: ½ level tsp (1-2 grams)
• MEDIUM PET: 1 level tsp (2-3 grams)
• LARGE PET: 1 heaped tsp (5-5 grams)

Made from 100% natural ingredients, without the use of herbicides, pesticides or chemical fertilisers. No artificial preservatives or food acids added.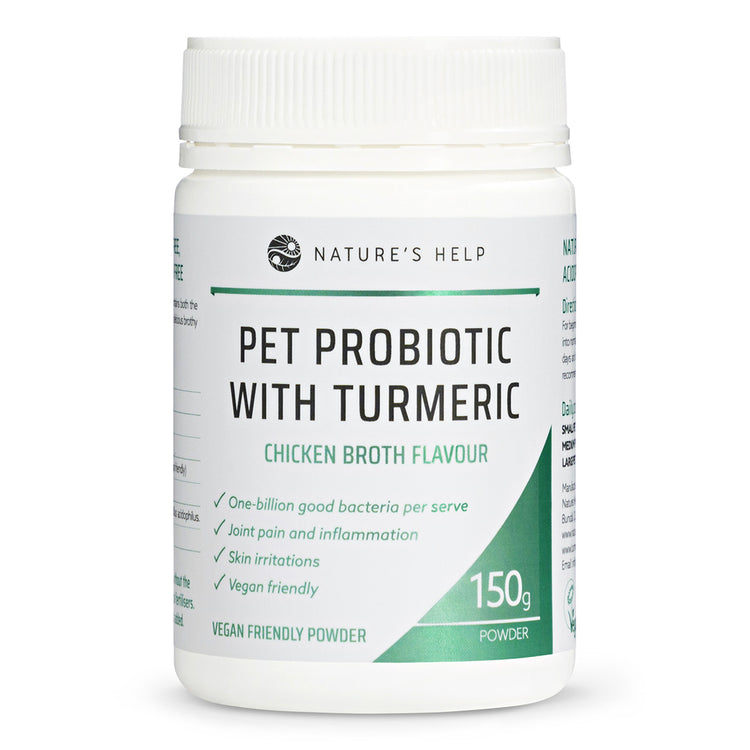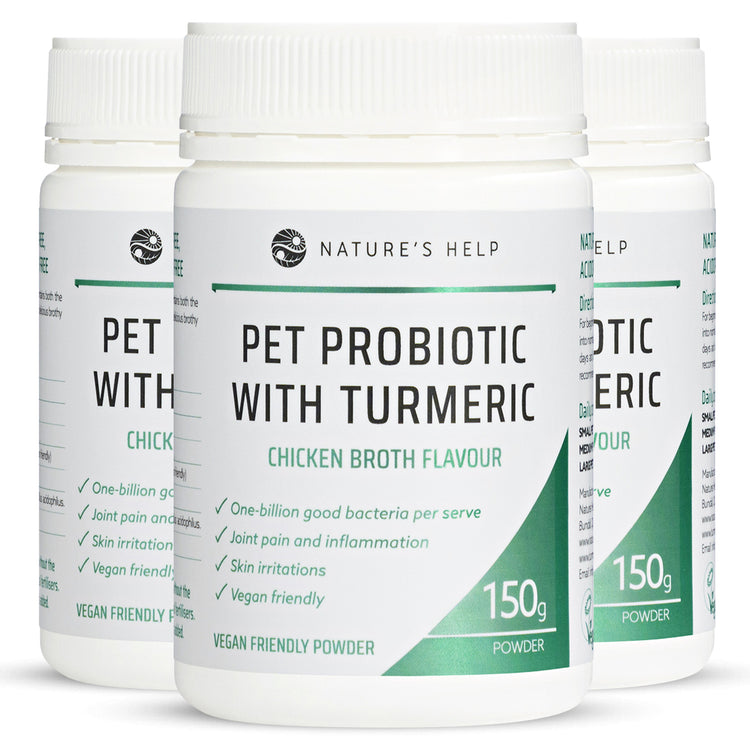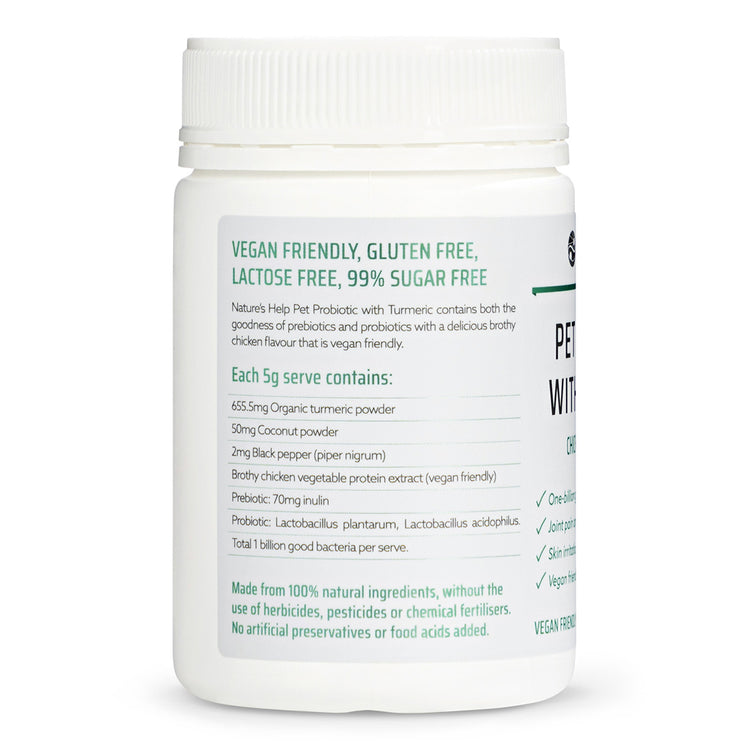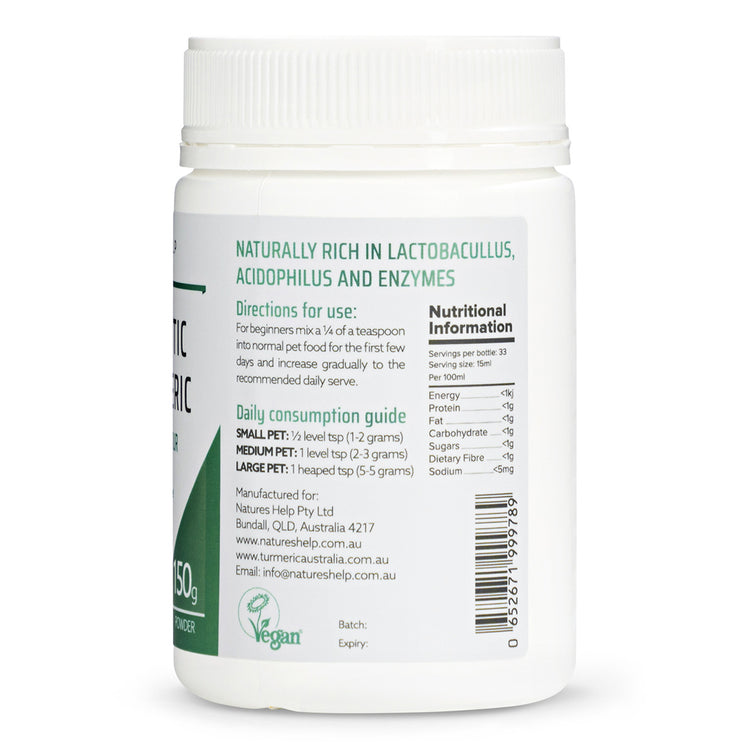 Customer Reviews
Individual results may vary.
Quality Guaranteed
Naturopath Certified
Australian Owned & Operated
Ethically Sourced
Fast & Secure Checkout
Store Info
1. Shipping and Delivery

AUSTRALIAN SHIPPING - via Australia Post:

• Standard Shipping (2-4 business days) - $9.95

• Express Shipping (1-3 business days) - $15.00

FREE EXPRESS SHIPPING on orders above $150

You will be provided with a tracking number when your order has been processed and
is ready for dispatch. You can check the status of your package via the Australia Post website.

Check our SHIPPING POLICY for more info.
2. Money-Back Policy

Please note that you can be eligible for a refund of our Turmeric capsules only if your purchased them from our online store. If you purchased one of our products from another store, you must return the product to the store in which you made your purchase and abide by their returns policy.

To be eligible for a refund under the money back guarantee you must have taken the product as per the suggested daily intake for a period of no less than 30 days. If you are asking or refund of the item(s) because you have changed your mind or any reason other than believing you the product has made no difference to you all, then any postage charge is payable by you. Items to be returned by post are your responsibility until they reach Turmeric Australia, so please make sure that they are securely packaged. See our Returns policy for more information.

Product Assessment:
Once we have established proof of purchase and the products has been taken in accordance with suggested daily dose, we will be able issue a refund.
3. Contact

Did you have:

A question, enquiry, request, or query? A comment, observation, remark, or some feedback?

Well don't be shy, we love hearing from our customers and value your opinions.

Send us an email to info@turmericaustralia.com.au or Call us on 1300 001 558.

We apologise for not having someone to always pick up the phone when you call. We are an online business and unfortunately, that means we don't have a dedicated call centre. If you do not have internet access to place your order or need to speak to someone, please call us on 1300 001 558. We will return all your calls with 24-48 hours.

Our office hours Monday to Thursday from 10:00am to 3:00pm
Friday 10:00am – 1:00pm Queensland Time
Saturday and Sunday – CLOSED